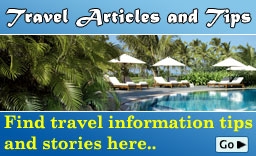 Goa Weather in March

Sunshine
Tempreture varies from 26 to 36 C in March
The search for the perfect beach destination in India leads to Goa. The small state located on the west coast of India is one of the most popular tourist destinations
Things to Do
Activities
Entertainment
Sights
Practical Information
Museums and Art Galleries Goa
Everyone knows Goa as the land of sun and sand. Every year, hordes of tourists visit Goa to frolic in the smooth sands and sunbath on the spectacular beaches of Goa. Partying and merry making are the call of the day throughout the year. But Goa is also a treasure chest of art, cultural heritage and varied traditions. If you wish to know more about this warm and inviting state, make a trip to the various museums and art galleries, Goa.
The museum and art galleries in Goa showcase the artifacts that inform you about the history of Goa. You are sure to be spellbound by the unique collection of data, sculptures and art pieces that are exhibited in these museums and art galleries.
The concept of museums gained momentum in Goa after the first museum was opened in the state in the year 1973. Eventually a number of art galleries and museums were set up in Goa to attract the scores of tourists that visit the state from all over the world. There is much to see in the museums. You can spend long hours checking out the truly exquisite pieces of art in the art galleries. The exhibits narrate the history of the region through the various ages. Goa was ruled by many dynasties through the ancient, medieval and modern ages. The gradual evolution of Goan culture influenced by Hindu, Islamic and European factors can be observed in these museums and art galleries.
A few of the noted museums and art galleries in Goa are -
Museums in Goa:
Some of the main museums situated in Goa include:
Archaeological Museum and Portrait Gallery
Museum of Goa Daman and Diu
Museum of Christian Art
Naval Aviation Museum
Goa State Museum
Institute Menezes Braganza
Archives Museum
Art Galleries in Goa:
Kerkar art Complex
The Art chamber
Art Gallery & Handicraft Center
The Big Foot Art Gallery