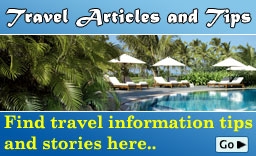 Goa Weather in March

Sunshine
Tempreture varies from 26 to 36 C in March
The search for the perfect beach destination in India leads to Goa. The small state located on the west coast of India is one of the most popular tourist destinations
Things to Do
Activities
Entertainment
Sights
Practical Information
Shopping in Goa
Goa - The land of colors, dreams, and natural beauty is also a sought-after destination amidst shopper looking for some antique and handmade stuffs. Goa is a travel destination considered by family, friends and honeymooners for a relaxing and rejuvenating vacation. The perfect combination of sun, sea and sand makes it paradise for vacationers. For a wholesome experience, the flea markets and shopping hotspots are a must visiting attractions. Goa, in terms of shopping, has abundant to showcase and offer to the visitors keenly interested in buying items that reflect the essence of Goa as souvenirs. Thus, Shopping is one of the sought-after activities on the list of to do things in Goa.
Goa is a truly cosmopolitan state with people from various origins and backgrounds living harmoniously. If you go for shopping in Goa, you will find that the markets also reflect the cosmopolitan culture, offering a wide range of products and items.
The shops in Goa include both street shops as well as large modern malls. The street shops and beach side markets are the best place to buy small souvenirs that are truly Goan and very unique.
Shopping Destinations in Goa
Panjim Market
Old Goa Market
Flea Market on Anjuna Beach
Mapusa Market
While shopping in Goa, you must look for typical Goan souvenirs such as shell work, brassware, crochet, cotton beachwear, embroidered bags, attractive sarongs, and oxidized jewelry, bamboo work, carved furniture, terracotta and papier-mâché items. Most government emporiums and shops sell these items. There are also many souvenir shops located on the premises of large hotels and resorts. A number of fashion designers have also recently opened up their boutiques in Goa that are the ideal destinations for the fashion conscious. Most of these shops are located in beautiful old Goan homes. Do remember to buy a bottle of the famous 'Fenny'.
Tips for Shopping in Goa
Do not forget to bargain for articles bought from roadside stalls and local shops. Bargaining is necessary as the prices quoted by the owners are relatively higher.
If you are interested in buying genuine antiques and handicrafts, make sure you buy only from emporiums and showrooms managed by the Government.