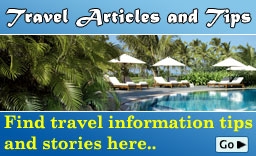 Goa Weather in March

Sunshine
Tempreture varies from 26 to 36 C in March
The search for the perfect beach destination in India leads to Goa. The small state located on the west coast of India is one of the most popular tourist destinations
Things to Do
Activities
Entertainment
Sights
Practical Information
Archeology
Temples, forts, shipwrecks and churches, comprise the archaeology of Goa. This state with a rich history of many years has some interesting sites that can be considered as the invaluable relics from the past. The various human settlements and rule of different powers have just added to the colorful culture of the state.
Churches :
The archaeological sites of Goa include the well known churches of the state. The famous Basilica of Bom Jesus, built in 1605 is one of the finest examples of early Goan architecture. This is also one of the World Heritage Sites of Goa. The ruinous remains of the Church of St Augustine are yet another important proof of the archaeological heritage of Goa. Only one of the four towers still stands there today.
Temples :
The temple of Mahadeva, on the west coast, contributes significantly to Goan archaeology. This is perhaps the only remaining example of temple architecture before Portuguese rule in Goa. This 12th century temple is maintained by the Archaeological Survey of India. The exquisite wall carvings and the detailed work provide valuable insight into the early architectural style and the skilled craftsmanship. The Mohini temple is a classic example of 15th century architecture in the state. The blend of different cultures is evident in the various nooks and corners of the temple.
Forts :
Archaeology in Goa also includes the forts of Goa. Many of them are in ruins now with only the ramparts standing among the debris. The 17th century Fort Aguada and Terekhol; 18th century ruinous fort of Cabo da Rama and Fort Chapora are some famous forts of archaeological importance. Sometimes the forts are found to be built on existing structures. There may be traces of ancient cultures buried under the ruins.
Maritime archaeology of Goa :
The shipwreck history of the state dates back to the 2nd century BC. The National Institute of Oceanography (NIO) have excavated relics like Chinese ceramic, elephant tusks, the brass barrel of a hand gun, teeth of hippopotamus, bricks of different shapes and Martaban pottery pieces at the Sunchi reef. Certain artifacts of daily usage have also been excavated from St George's Reef.