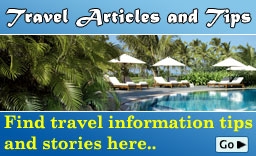 Goa Weather in March

Sunshine
Tempreture varies from 26 to 36 C in March
The search for the perfect beach destination in India leads to Goa. The small state located on the west coast of India is one of the most popular tourist destinations
Things to Do
Activities
Entertainment
Sights
Practical Information
Mansions in Goa
The architecture of Goa has been influenced by various factors, among which, the influence of varied cultures is the most important. The region of Goa has been ruled by people of many cultures that varied greatly from each other. The Hindus of ancient India, the Muslims of medieval ages and the Portuguese who stayed here even after Indian independence, have all added unique features to the house building styles in Goa. A visit to the famous mansions of Goa makes this gradual amalgamation of architectural styles very apparent.
The mansions are prominent tourist attractions in Goa. Many of them still have people living in them. These mansions have preserved to a great extent the colonial era of Portugal. The mansions are museums in themselves, showcasing antiques, paintings, and other curios that were collected over a period of hundreds of years.
The following are the famous mansions of Goa -
Solar Colaso :
This famous mansion is located at Ribander, on the left bank of River Mandovi. The mansion is surrounded by natural bounty and faces the river. The architecture is chiefly Baroque, influenced by local and traditional Hindu styles. The view of the churches of Goa at a distance from the site is spectacular.
The interiors are equally impressive, with curios and paintings from previous centuries adorning the large rooms. The interesting aspect is the presence of the Ramayana carvings along with Christian themes. The mansion also has a private family chapel.
Braganza House :
This is the most impressive among the colonial mansions of Goa. It is located in the Chandor village, about 40 minutes driving distance from Madgaon. This house was built in the 16th century by the Braganza family, to which Menezes Braganza, a noted freedom fighter belonged. The house showcases the amazing blend of local and European culture. The interiors sport period furnishings and impressive woodworks, a grand staircase, beautiful chandeliers, and stained glass windows. The grand ballroom, the private chapel and the fruit orchard are the other major attractions here.
The Salvador Costa Mansion in a South Goa village called Loutolim is yet another noted mansion in Goa. The low tiled roof and wide verandas, coupled with European windows and cluster columns remind you of the strong European influences over Goan culture.
The other well known mansions of Goa are -
Dr. Pinto De Rosario Mansion, Porvorim
Mascarenhas Mansion, Anjuna, North Goa
Vivian Coutinho Mansion, Fatorda
Loyola Furtado Mansion, Cinchinim, (south of Madgaon)