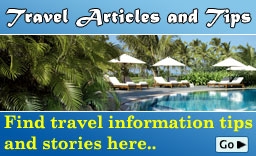 Goa Weather in March

Sunshine
Tempreture varies from 26 to 36 C in March
The search for the perfect beach destination in India leads to Goa. The small state located on the west coast of India is one of the most popular tourist destinations
Things to Do
Activities
Entertainment
Sights
Practical Information
Cinemas and theaters in Goa
Entertainment is a major part of the Goan way of life. The Goan people like revelry, as their numerous festivals and carnivals testify. The arts are equally popular in the state. Like the rest of India, the Goan people love to watch movies and the cinemas and theaters in Goa are very popular joints among the locals, young and old alike. These are rapidly becoming regular family destinations, especially on weekends and holidays.
Almost all the major cities of Goa have more than one major cinema hall. At present there are 20 cinemas and theaters in Goa. 11 of these are located in North Goa, and the rest in South Goa. The total seating capacity is 8273. Like the rest of the country the cinemas and theaters in Goa are undergoing renovation. Panjim/ Panaji, the capital, has recently got a four screen multiplex in the form of the INOX theater which has a capacity of 1272 people. This modern theater has all the comforts offered by the other INOX theaters in the major cities of India. The hall features the latest projection devices and excellent sound system. The people of Panaji can sit at home and get their tickets as the hall offers internet booking and home delivery services.
Some other cinema halls hold prominence in their cities. The Osia Multiplex in Margao is yet another recent addition to the options of entertainment in Goa. The two-screen multiplex is South Goa's principal cinema hall. It screens Hollywood and Bollywood movies simultaneously. The location of the hall is very convenient, being near the Kadamba bus stand in north Margao.
The Kala Academy is among the best known theaters in Goa. It was established in 1969 and is located in Panaji. The chief purpose of building Kala Academy was to promote the art and culture of Goa. Various festivals are held at the Kala Academy all through the year. These include the Marathi Drama Festival, the State art Festival, the Bhajan Competition, Tiatr Festival, and the Konkani Festival. The hall is also a venue for Book exhibitions and commercial events. The international film festival was organized by Goa in 2005. Kala Academy hosted many of the events and screenings then and was visited by numerous dignitaries from all over the world.