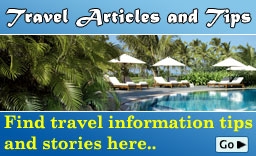 Goa Weather in March

Sunshine
Tempreture varies from 26 to 36 C in March
The search for the perfect beach destination in India leads to Goa. The small state located on the west coast of India is one of the most popular tourist destinations
Things to Do
Activities
Entertainment
Sights
Practical Information
Music in Goa
Music is the main life force of Goa. In nightclubs, pubs or even by the streets, you will get to hear various forms of music. The traditional folk music and the modern, western forms are equally popular all over Goa. Centuries of Portuguese rule has influenced the music of Goa to a significant extent. You will hear Konkani as well as Portuguese lyrics being sung at different places, as you tour through Goa.
Traditional music :
The traditional Goan music, including the folk songs, can be heard as you travel through the villages of the state. Some of this music has captured the essence of Goa, a mix of the cultures of east and west. The folk music of Goa includes popular forms like:
Mando : Mando effectively blends the western and eastern form of music. The music starts on a slow note and gradually gains momentum, ending on a fast beat. This is a chorus song, sung by both girls and boys. There is another form of Mando, which is sung by the Catholics of Goa. Accompanied by a violin, the song is usually followed by a dance.
Suvari : This form can be heard at Hindu festivals. It is mainly orchestral in form; the musical instruments form a major part of the music. Cymbals, Shehnai, Shamel and Surt are some of the instruments that are played.
Ovi : A typical Goan wedding song, Ovi is sung by the womenfolk. It is usually sung during a ritual, when coconut oil is applied as a symbol of a prosperous life ahead.
Some other traditional music forms of Goa are:
Jat
Lavni
Gadya Ramayana
Carol Singing
Cantaram
Gaun Kani
Electronic music :
"Goa Trance" is a form of electronic music that became popular in the last decades of the 20th century. The music originated with the foreign music that was played around the various beaches of Goa. Later Goa trance music was modified, which lead to the birth of a new genre of music - psychedelic trance or Psytrance.
Pop music in the west has influenced much of the electrical music scenario in Goa. Pop music too is very famous with contributions by pop artists and bands in Goa. The Goa Amigos is a famous pop band that has performed at many international events.