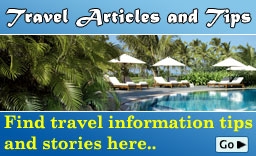 Goa Weather in March

Sunshine
Tempreture varies from 26 to 36 C in March
The search for the perfect beach destination in India leads to Goa. The small state located on the west coast of India is one of the most popular tourist destinations
Things to Do
Activities
Entertainment
Sights
Practical Information
Goa Tourist Attractions
When planning to go somewhere during holidays, it is best to have some information about the place. Getting to know about the major tourist attractions helps you plan your trip in a better manner.
Goa is a place which promises you with a fun-filled holiday amidst the sand and sun. The place provides a lively atmosphere to the tourists which make them take back some memorable experiences. For those who are planning to travel Goa, this holiday season, we have a guide for them right down here.
Beaches in Goa :
All the beaches in Goa are famous for their golden colored sand and clear water. Tourists from all over the world visit Goa throughout the year. Parties are organized every night in Goa at these beaches. When you visit Goa, make sure that you visit the following beaches:
Calangute Beach:The largest beach in North Goa, Calangute beach is visited by thousands people from all over the globe. The beach offers different water sport activities such as parasailing and water skiing.
Vagator Beach: When it comes to partying, Vagator beach is just the right place. The beach is located at the bottom of a steep cliff and is further divided into sections such as Big Vagator, Little Vagator and Ozran.
Anjuna Beach: Anjuna beach is known for its Wednesday flea market which is the biggest of all markets in Goa. Curlies, which is at the southern end of the beach, is considered the most happening spot of beach.
Candolim Beach: The liveliest beach of Goa, Candolim beach is lined up with bars and shacks. One can find a number of restaurants on the beach which offer lip-smacking dishes.
Baga Beach: Baga Beach starts right where Calangute beach ends. Though the beach is less crowded than other beaches, it is much developed than others. The beach offers some water sport activities and it is also known for its commercial nightlife.
Cavelossim Beach: The beach is famous for its beautiful sights which make tourists come here. Also, it has many water-sports vendors and beach shacks where people can enjoy a great evening.
Colva Beach: Colva beach is most visited by Indian tourists and locals. The beach has some budget hotels, beach shacks, food stalls, bars and restaurants.
Bogmalo Beach: It is a beach which is located near a small village. It provides beautiful sights to the visitors.
Dona Paula Beach: It is a popular beach in Goa and it houses many hotels, bars and restaurants.
Majorda Beach: Majorda beach is located in Majorda village in Salcete, Goa. It is a famous tourist attraction and people from all over visit this beach.
Miramar Beach: A popular beach in Goa, Miramar beach is located in the capital, Panaji. Before Miramar, the beach was names Porta de Gaspar Dias by the Portuguese.
Varca Beach:Varca beach is the place for those who wish to spend some time in a peaceful and beautiful place.
Temples in Goa:
Goa has a majority of Hindi population which makes it house a number of temples. All these temples attract people from different parts of the world to pay a visit here. Listed below are some main temples in Goa:
Shanta Durga Temple:The temple is in Quepem Taluka and dedicated to Shantadurga. The temple has an idol of Shantadurga which is made of five different metals and is one foot in height.
Sri Ganapati Temple:The Sri Ganapati Temple at Khandole village is the oldest of all temples in Goa. The temple is known for its beautiful Lord Ganpati idol.
Mahalaxmi Temple:Mahalaxmi temple is located right in the center of the Panaji city and is considered a sacred shrine for Hindu devotees. Mahalaxmi is considered the presiding deity of the Panaji city as it was the first Hindu temple built in Goa after the Portuguese invasion by Alfonse de Albuquerque.
Shri Nagesh Maharudra Temple:The Shri Nagesh Maharudra temple has a beautiful tank at the entrance. It also has a Nandi bull in black granite. There are also some small temples near this temple.
Churches in Goa:
All Churches in Goa demand a must-visit from the tourists. They are architecturally beautiful and the most popular tourist attractions of Goa as they form an important part of the history of Goa. Churches in Goa were established by the Portuguese rulers. Some of the most porpular Churches in Goa are:
Se Cathedral: Se Cathedral in Old Goa was completed in the year 1631. The church is dedicated to St Catherine of Alexandria on whose feast day in 1510, Alfonso de Albuquerque defeated the Muslim army and repossessed the city of Goa.
Basilica of Bom Jesus: Basilica of Bom Jesuswas built by the Jesuits in 1605. The church has the mortal remains of St Francis Xavier. It is a famous church in Old Goa.
Church of St Francis of Assisi:The church was first built in 1510 and later rebuilt in 1521. It is known to have the most beautiful interior of all churches in Old Goa.
Church of Lady of Rosary: This church was built in 1543 on the Holy Mound (Monte Santo) close to the convents of St Monica and St Augustine. The importance of the church can be understood by the fact that it stands on the same spot from where the conqueror of Goa, Alfonso de Albuquerque, witnessed the reconquest of Goa in 1510.
Historical Attractions in Goa :
There are a number of historical monuments in Goa which are extremely popular among tourists. The Fort Aguada is a must-visit fort in Goa. The Aguada jail and the lighthouse are also famous monuments which take one back to the history. The mansions of Goa are also popular tourist attractions.
Other Attractions :
Goa is known as a non-stop partying place where parties are organized almost every day. Different carnivals and events are organized in Goa every year which makes tourists visit here from different parts of the world.