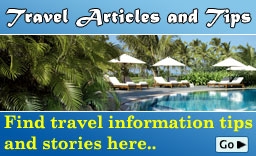 Goa Weather in March

Sunshine
Tempreture varies from 26 to 36 C in March
The search for the perfect beach destination in India leads to Goa. The small state located on the west coast of India is one of the most popular tourist destinations
Things to Do
Activities
Entertainment
Sights
Practical Information
Casinos in Goa
Goa is famous as a tropical paradise where revelry and fun have no bounds. It is undoubtedly one of the most happening tourist destinations in India popular worldwide for its beaches, nightlife, discotheques, music, carnivals and a laid back lifestyle. Goa is also well known for its numerous casinos. After a day's sightseeing and enjoying the water sports at the beaches, you can continue to have a ball at some of the world class casinos in Goa. The casinos and pubs attract a lot of tourists and contribute towards the growth of tourism in Goa.
Goa's casinos have very few table games but they do have many gaming machines. Some casinos also extend the state-of-the-art gaming facilities and other recreational facilities like restaurants, barbecues and swimming pools. With the increasing number of casinos in Goa, the state is set to become the casino capital of India.
Apart from the various games, the casinos the Casinos and clubs of Goa also offer quality cocktails, mock tails and an impressive range of liquors. There are several first rate casinos offering popular games like roulette, blackjack, baccarat and craps. Do not miss out on the nightlife of Goa with such a variety of entertainment centers dotted all over.