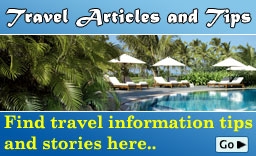 Goa Weather in December

Sunshine
Tempreture varies from 26 to 36 C in December
The search for the perfect beach destination in India leads to Goa. The small state located on the west coast of India is one of the most popular tourist destinations
Things to Do
Activities
Entertainment
Sights
Practical Information
Architecture in Goa
The tiny state of Goa in western India has a unique culture due to Portuguese colonization that continued here from the 16th century till the mid 20th century. The architecture of Goa, has also evolved with elements from many sources, predominantly European and indigenous. The churches, forts, mansions and other monuments of Goa testify the blend of radically different cultures and thoughts that have gone into them.
Churches of Goa :
There are numerous churches in Goa. Built by the Portuguese for their own religious purposes and with a strong motive for spreading Christianity, these churches clearly show the strong European influence and the Portuguese touch.
The Baroque style is prevalent in most of the churches of Goa. The Church of Our Lady of the Immaculate Conception sports a baroque façade and is distinctly European in style. Similarly the Basilica de Bom Jesus is a grand Baroque structure that has also combined Corinthian, Doric, Ionic, and composite styles.
The Se Cathedral and the Church of St Cajetan also feature Tuscan and Baroque styles respectively. The Gothic style Church of St. Augustine is now in ruins but still shows string Gothic elements. The Church of Francis Assisi is a rare example of the Portuguese Manuelin style, using motifs related to seafaring.
Mansions of Goa :
Built by the rich and famous of Colonial Goa, these famous mansions clearly exhibit traditional elements that gradually blended with the European architecture of Goa. The Braganza house in Chandor is a fine example of the style that may be called Indo-Portuguese. The typical baroque style has been combined by traditional elements like intricate carvings, and patterns of doors and windows.
Forts and other buildings:
The forts of Goa were built by a not so dominant power in a hostile country in medieval times. So they relied more on practicality than grandeur. Often they were built on the ruins of existing forts like the Fort at Cabo da Rama. The Fort Aguada has a simple plan and indicates the practical purposes served by the forts of Goa.
Houses :
Perhaps the most amusing structures in Goa are the colorful houses. The use of bright colors like blue and yellow increased after the Portuguese settled down and started to reside here. The use of red tiles is also a special feature of Goan houses.