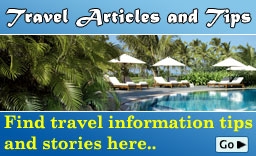 Goa Weather in March

Sunshine
Tempreture varies from 26 to 36 C in March
The search for the perfect beach destination in India leads to Goa. The small state located on the west coast of India is one of the most popular tourist destinations
Things to Do
Activities
Entertainment
Sights
Practical Information
Monuments of Goa
Goa has a lot more to offer to a tourist than just its beaches. The fabulous beach destination in western India is also renowned for its large number of historic monuments. The monuments of Goa narrate the long and diverse history of the region. They comprise structures of historic, religious and administrative importance. Churches, forts, temples, and heritage houses are among the popular monuments of Goa.
Temples of Goa :
The monuments of Goa also include a large number of temples. These temples were saved from persecution during the Portuguese inquisition, and some were rebuilt later. The famous temples of Goa include the Devaki Krishna Temple, Shri Ananta Temple, Shri Shantadurga Temple, Shri Chandreshwar Temple, and Shri Mangesh Temple
The heritage mansions of Goa are also among the must visit attractions of the state. Besides there are many statues of eminent figures like Afonso de Albuquerque, Vasco da Gama, St.Catherine and Abbe Faria at various prominent tourist spots in Goa.
Churches of Goa :
The churches speak of the religious revolution that took place in Goa in the 16th century. The Portuguese came to Goa for trade, but decided to colonize and spread Christianity in the new country. The churches acted as religious centers of the new colony. They also became centers of learning. Over the years, many churches were lost to neglect and saline air. Some of the relatively recent ones are still standing.
The Chapel of St. Francis Xavier, Se Cathedral, Church and Convent of St. Monica, Convent and Church Of St. Francis of Assisi, Professed House and The Basilica of Bom Jesus are the most famous churches in Goa.
Forts of Goa :
The forts of Goa that can be seen today are mostly Portuguese structures that were built over existing forts belonging to the early medieval rulers of the region. The forts are nowhere near the grandeur or size of the Mughul forts. However, they make a pretty picture at many places, with their ramparts overlooking the sea. Many of these forts have been converted into luxury hotels.
The Aguada Fort, Chapora Fort, Fort Tiracol, Mormugao Fort, and Cabo da Rama are the forts to be visited in Goa.