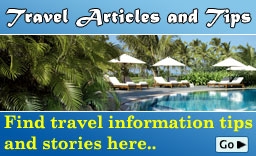 Goa Weather in March

Sunshine
Tempreture varies from 26 to 36 C in March
The search for the perfect beach destination in India leads to Goa. The small state located on the west coast of India is one of the most popular tourist destinations
Things to Do
Activities
Entertainment
Sights
Practical Information
Access to Goa
Goa, the enchanting tourist destination in western India, can be accessed from all parts of the country with ease. The state is equally accessible by air, railway, roads, and waterways. Tourism being so important for the state, access to Goa has received due importance from the relevant authorities. The state has excellent roads that are ideal for driving from the nearby states of Maharashtra and Karnataka.
Air Access to Goa :
The Dabolim airport, located about 35 kilometers from the state capital, Panaji (Panjim), is the domestic and international airport in Goa. Goa is well connected by many important Indian cities including Delhi, Mumbai (Bombay), Bangalore, Chennai (Madras), Cochin, Mangalore and Trivandrum.
Kingfisher, Deccan, Jet Lite, Spice Jet, Indian Airlines, Go Air, and Indigo are the major domestic carriers linking Goa with the rest of the country.
International destinations like Paris, New York, London and Dubai are also connected to Goa by air. The chartered flight services operated by many foreign operators have increased in number in the recent times. Monarch Airlines, XL Airways, Novair, air Berlin, and Thomsonfly operate from the European countries to Goa.
Sri Lankan airlines connect Goa with Colombo.
Railway Access to Goa :
At present two railway lines serve Goa. These are - the south western railway and the Konkan railway. Madgaon and Vasco da Gama are the major railway stations in Goa.
The Konkan railway takes you on a fascinating journey along the Konkan coast, traveling between Maharashtra, Goa and Karnataka. It is one of the best ways to travel to Goa, as the scenery on both sides during the journey is splendid.
The Important Trains Run by Konkan Railways are -
Madgaon to Dadar (Mumbai) - Madgaon Janshatabdi Express
Chatrapati Shivaji Terminus (Mumbai)-Madgaon Konkankanya Express
Chatrapati Shivaji Terminus (Mumbai)-Madgaon Mandovi Express
Thiruvananthapuram - Hazrat Nizamuddin (Delhi) Rajdhani Express
Lokmanya Tilak Terminus (Mumbai) - Mangalore Matsyaganda Express
Vasco-Da-Gama - Hazrat Nizamuddin via [[Madgaon],Goa Express
Hubli - Londa - Hazrat Nizamuddin. - Goa Link Express
Road Access to Goa :
The national highways NH-4A, NH-17 and NH-17A provide road access to Goa from the nearby states. Road transportation in Goa is offered by the Kadamba Transport Corporation. Auto-rickshaws, motorbike taxis, and rented cars are available for travelling within the state.
Water Access to Goa :
Catamaran rides from Mumbai to Goa are offered by some private operators. Ferry services are available for transport between cities.