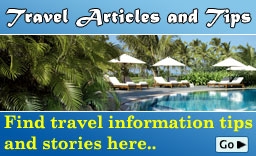 Goa Weather in August

Sunshine
Tempreture varies from 26 to 36 C in August
The search for the perfect beach destination in India leads to Goa. The small state located on the west coast of India is one of the most popular tourist destinations
Things to Do
Activities
Entertainment
Sights
Practical Information
Transportation in Goa
Goa is a major hub for travelers, most of them in fact cross miles to visit the place. With the growing days, its tourism industry experiences a hike in the number of visitors and admirers; thanks to the abundance of activities it caters and the beauty of its raw ethnicity and surrounding. The bustling tourist activities of the state have led to the growth of easy hospitality services in the vicinity. Right from accommodation to transportation, there is sheer ease; and you can actually find plenty of options in all of them. So if you are a budget traveler or a lavish tourist, you can dig out the best, from the roots of Goa, without much ado. To make your traveling smoother, we have listed below all the options of transportation in Goa.
Road Transports:
Taxis :
You can easily find taxis in Goa. There are yellow taxis which run across the state and are usually available for hire. Otherwise, you can book a taxi from major tourists' spots, hotels or online. The fares of the taxi differ slightly from driver to driver. It is always advisable that you finalize an amount prior the commencement of the journey. You might get charged higher than actual fare, make sure that you confirm it with the hotel staff or the locals. You can explore different corners of the state comfortably, in a taxi.
Buses :
This is the cheapest form of travel, but also crunches most of your time. If you are on a budget and love to explore a place with its locals, then nothing else would work out for you as perfectly as a bus. The state government manages an expansive route of buses which travel in and out of the town. The state has many convenient bus stands and depots.
Car/Bike/ Scooter Rentals :
This is an option for those who love to travel without boundaries or pre-decided itineraries. All you need to do is provide any identification card to the local rental stores (they are found in every corner of the state) and hand over the rent and swift away to your destination (or a road to nowhere). The rental doesn't include petrol/CNG charges (Hail god! Goa is amongst the few state where you can get petrol at the price as low as Rs 60/Liter). Also, the rentals are usually charged on per day basis, it starts from Rs 250 and can range according to the vehicle you opt for.
Water Transport :
Although you might not need this type of transport to travel within the state; but for fewer cases and leisure activities too, there are ferries and motorboats available in the state.