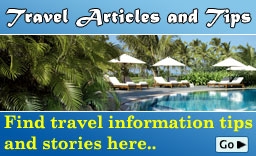 Goa Weather in March

Sunshine
Tempreture varies from 26 to 36 C in March
The search for the perfect beach destination in India leads to Goa. The small state located on the west coast of India is one of the most popular tourist destinations
Things to Do
Activities
Entertainment
Sights
Practical Information
Sports and Recreation in Goa
Sports and recreation in Goa involves engaging in some exciting and adventurous activities and a chance to see something other than beaches. Hills, forests and swift flowing rivers are also the attractions of Goa. There are trails to be explored, mountains to climb and other adventurous challenges that you can take up.
Water Sports :
Water sports like surfing, diving and parasailing are some of the most popular activities of Goa. For more thrill you can try out jet skiing. Flying through the water on a Jet Ski machine really tests your nerves for such activities. You can also check out water skiing at the beaches of Calangute, Utorda, Candolim, and Rajbaga. For a more relaxed sport, you can try Catamaran sailing. Boat cruises are the other options that you can go for. Scuba diving and snorkeling opens up the doors of the undersea world for you. You can see schools of fish and other underwater plants and animals during dives.
Land activity :
Sports and recreation in Goa does not end with water sports. Goa has a number of options that you can explore on land. Trekking and Go-Karting are some of the popular choices for action on land. During your hiking expeditions you get a chance to explore the forested lands of Goa. Treks to national parks and the Dudhsagar waterfall can be some of the highlights of your tour. Golfing is another popular sport in Goa that attracts residents and tourists alike.
Adventure sports :
Bungee jumping is for those who are craving for some adrenaline rushing activity in Goa. You can feel the air rush past your ears as you jump off a high pedestal with a rope tied to your feet. The thrill of literally flying through air is very exhilarating. Anjuna beach is the best place for bungee jumping in Goa.
Other sports and recreation in Goa :
Bird watching is another popular activity in Goa. There are a number of species of birds that you can spot as you walk along the lakes. You can also visit the Dr Salim Ali Bird Sanctuary on Chorao Island. You can alternately engage in crocodile or dolphin watching trips. Candolim, Palolem and Calangute beaches are good for such spotting activities.