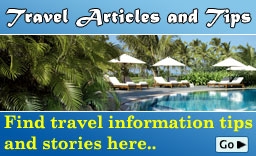 Goa Weather in June

Sunshine
Tempreture varies from 26 to 36 C in June
The search for the perfect beach destination in India leads to Goa. The small state located on the west coast of India is one of the most popular tourist destinations
Things to Do
Activities
Entertainment
Sights
Practical Information
Golfing Goa
While vacationing in Goa, you can also enjoy the various sporting activities that are available in the state. Playing a round of golf is a popular way to spend your leisure hours. Golfing in Goa has gained so much popularity, that golfing travel packages of Goa are offered by many of the travel companies.
Golf courses in Goa:
Most of the golf courses are located inside the hotels of Goa. However, you need not stay in the hotel to access the golf course. You can put up at one of the nearby hotels, and visit the golf course later. There are 12 to 9 hole courses in Goa. Given below is a list of popular golf courses in Goa, along with their detailed features.
Ramada Hotel : The course is surrounded by palm trees. The thick carpet of grass is maintained by the hotel staff.
Leela hotel : This golf course offers you features a 12 hole course. It is a pleasure to play in the course with long leaved grasses.
Renaissance Goa Resort : A 9 hole course with facilities for renting golfing equipments, this is one favorite spot for playing golf.
Taj Exotica : The golf course at Taj Exotica features 9 holes, spread over an area of 160 meters. The well - maintained course is fit for golf tournaments.
Golfing holiday in Goa:
Golf tours to Goa involve visiting the various golf courses in Goa. They offer comfortable night stays in one of the many luxury hotels in Goa. The whole day is devoted to playing golf. This way you can travel to the various golf courses in Goa. Staying at a nearby hotel, and heading to the golf course after breakfast makes for an ideal golfing holiday. You can visit the tourist attractions after a round or two of golf. Sightseeing tours are often clubbed with golfing trips in Goa. This way not only do you get to enjoy your favorite leisure activity, but also get a tour of the places of interest in Goa.
Golfing holiday packages usually includes a 5 day tour, which can be extended to a 21 day tour.
Before you quit, may I help you?
Kindly give us your requirement and our travel expert will help you to plan your tour.
Plan my Trip!