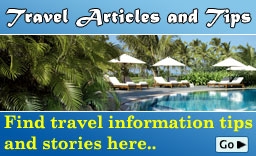 Goa Weather in March

Sunshine
Tempreture varies from 26 to 36 C in March
The search for the perfect beach destination in India leads to Goa. The small state located on the west coast of India is one of the most popular tourist destinations
Things to Do
Activities
Entertainment
Sights
Practical Information
Culture of Goa
Often referred to as 'The Rome of the East', Goa has been a Portuguese territory for over 450 years and was the last freed colony to be a part of the Indian Union in 1961. The uniqueness of Goa lies in the fact that one can still experience the Portuguese sights and sounds here. The richness of Goan culture can be seen in its art, music, dances, food, fairs and festivals, religion, architecture and so on. The lively streets of Goa are the depiction of the carefree spirit of the state and its people.
People of Goa :
The people of any state are an important part. People of Portuguese lineage and Konkanis live together in complete harmony in Goa. Followers of Hinduism, Christianity and Islam stay together peacefully. Festivals of all religions Diwali, Holi, Christmas, Ganesh Chaturthi and so on are celebrated with equal enthusiasm. This very feature of people from different faiths and religion staying together is an amazing one.
Art in Goa :
Art in Goa is also as colorful as it's everything else and is an amazing blend of varied cultures in Goa. Portuguese craft can be seen intermingling with Indian patterns, making a striking art piece. Goa is quite popular for its handmade sea shell jewelry and decorative pieces. Some of the crafts like bamboo making and pottery have been there since the 15th century. When in Goa, you would see wooden lacquer ware, woodcarvings, seashell craft, bamboo craft, brass metal, Papier-Mache, Crochet and other embroidery, imitation and silver jewelry, woolen tapestry, cotton dolls, fiber and Batik prints, metal embossing, soft toys and fiber stone carving.
Goan Music :
The range of Goan music is extremely vast, starting from classical Indian to jazz and trance. One can even hear devotional songs as much as local Portuguese and local music. English, Hindi and Konkani songs all are played with equal interests. The people of Goa simply love their music. Even the Goan villages have their band that plays some great music with words and phrases from Portuguese. Trance music is an extremely popular form of music in Goa. As far as dance is concerned, there are a number of colorful and vibrant folk dances such as Dhalo, Dekhni and Tonavamel.
Cuisine in Goa :
Food is a very important part of the life of the locals of Goa. The cuisine of the state comprises of popular Goan regional food. Rice, seafood, coconut milk and local spice are mostly used ingredients of the delicacies prepared in Goa. Spices, aroma and flavors are prime features of Goan food. People of Goa vastly use Kokum in their food. Fish dishes are also quite popular here. Actually fish and rice are staple food of Goa. Seafood items also include mackerel, pomfret, tuna, prawns, lobster, tiger prawns, mussels and squid are quite popular. Influence of Portuguese can be seen in Goan food.
Religion :
The beach state of Goa is known as a place where people of various religions live peacefully. The very cultural base of Goa comes from a blend of Hinduism, Islam and Christianity along with the Portuguese rulers. Locals of Goa are religious but they live in complete harmony with each other. The people of multi-ethnic Goan state are tolerant of each other's believes. Although it is thought that Goa is Christian state but the majority of population here is Hindu. Hindu and Catholic people even celebrate each other's festivals. To see Christians celebrating Diwali and Hindus attending Christian mass is a common sight.
Fairs and Festivals of Goa :
The state of Goa is very popular for its colorful and lively fair and festivals and carnivals, which take place all round the year. All festivals like Diwali, Holi, Shigmo (popular spring festival), Shivratri, New Year, Christmas, Easter, Dusshera, Rakshabandhan, Good Friday all are celebrated here with same zeal and happiness. Lent, Fontainhas Festival of Arts, Seafood festival and Konkan fruit festival are some of the other popular festivals.
Nightlife of Goa :
If you haven't enjoyed the nightlife of Goa, you have actually missed something. As the night sky covers Goa, people party out to cheer up the atmosphere.a peg of gin or feni is a daily routine. Teetos and Mambos are two very popular nightclubs near Baga beach in North Goa. The beach shacks of Goa are popular points for tourists who visit Goa. The whole atmosphere is absolutely relaxing.