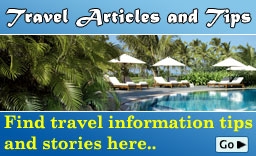 Goa Weather in March

Sunshine
Tempreture varies from 26 to 36 C in March
The search for the perfect beach destination in India leads to Goa. The small state located on the west coast of India is one of the most popular tourist destinations
Things to Do
Activities
Entertainment
Sights
Practical Information
Bars & Nightclubs in Goa
Goa is a paradise for tourists, offering sun-kissed beaches, splendid temples and magnificent churches that draw many travelers from all over the world. This small state has immense potential as far as tourism is concerned and once you are in this tropical heaven, don't miss out its pulsating nightlife. After a day's sightseeing, you can make your evenings even more exciting and vibrant by visiting the various bars & nightclubs in Goa.
Goa was once a Portuguese colony and one can clearly make out many shades of Portuguese culture embedded in the lifestyle of the people. The people of Goa are fun loving and celebrate any occasion with a lot of vigor and revelry. Besides the famous festivals and carnivals, you can witness the vibrancy of Goa in its numerous bars and nightclubs. Some of the most famous pubs and bars of North Goa are
Cool Cat
Raylo's Taverna
Desleys Bar
Chris Greve
The Red Lion Pub
The Log Cabin
Primrose
Club Cabana
You can also enjoy a wide range of Goanese cuisine along with an impressive range of drinks and cocktails in all the well known bars and pubs of Goa. You can dance the night away to the pulsating rhythms of the latest tracks played by the DJ at the various discotheques of Goa.
If you happen to be in south Goa then some of the popular pubs and bars that you can check out are
Bar Negro
Piedade Bar
Chiddos
Lounghinos Bar
Martins Corner
Dylan's Bar
Found Things
There are also several casinos for those who would like to try their luck. Some of the casinos remain open all through the night and offer delicious snacks and a wide range of the choicest liquor. You can visit some of the sought-after names in the casino world including Chances and Las Vegas.