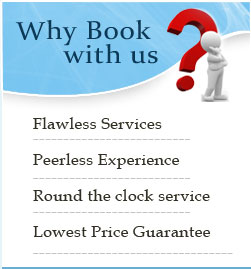 Goa - Travel Tools
When you are planning to travel to an all new place during holiday season, you need to get hold of a lot of information. Travel Tools are extremely helpful in such cases as the help you with everything, right from tour planning to currency exchange, distance calculator and weather information. They help you in planning the entire trip in minutes and get you handy information which you may require while travelling to the place.
So, if you are planning to visit Goa this holiday season, then you will not have to waste those long hours searching information over the net. All you need to do is, use Goa Travel Tools and plan everything quickly. It is quick and easy to use these tools and more is discussed about them in the section below:
Goa Travel Guide
When you are planning a trip, you are always looking for the best attractions which you can visit. The first key tool is the 'Travel Guide' which helps in exploring the travelling options between cities. Also, it has comparing options which help you compare the various transportation modes which are available.
Known as the "Rome of the East", Goa is a state which is located on the Konkan coast on the western coast of India. It is well-known for the breathtaking scenery, architecturally beautiful forts and magnificent churches and temples. Goa is a place which brings together different traditions and cultures. From beaches to cuisine and parties, Goa has everything you need for making it the perfect holiday.
Goa Tour Planner
Tour planning is easy with the second tool, 'Goa Tour Planner'. If you are planning to visit Goa, you will be looking for a number of things which are likely to leave you confused. By filling up some essentials below, you will be able to plan your trip just the way you want to. You need to fill in basic details like your name, contact details, travelling dates, number of travelers, type of accommodation, the type of services required and any additional information which you would like to mention.
Currency Converter
Those who are travelling from outside India have a number of questions popping up in their minds. Among them is the key question of currency converting. No longer, you will have to face any problem related to converting currency. With the 'Currency Converter' tool, you can convert the cost of your trip to Goa as per the current rate prevailing in a few seconds. Using a currency converter tool is very easy. You just need to enter the currency and figure which you have with you and change it to your currency just in one click. The tool is connected to the foreign exchange feeds which make currency converting quick and easy. You have an option of filling up major denominations like USD, EUR, GBP, INR, JPY, AUD and many more.
Weather information
We agree to the point that weather conditions play a key role in planning any trip. So, when you are planning your trip to Goa, you no longer will have to wait for getting weather related information. With the 'Weather Information' tool, you can get weather related information just in a few clicks. On the tool page, you just need to enter the name of the city you will be travelling to and you will get all the information. One key advantage of using this travel tool is that the online information keeps on updating as per the climate, so it is reliable as compared to printed mediums.
Distance Calculator
If you wish to take a transfer to some other place from your main destination Goa, then the distance calculator is here to help you. This tool helps you for looking up options like shorter routes to places or distance between different destinations. The tool is mainly designed to provide directions, distance information and major attractions en-route. To use this tool, you just need to fill in the name of the destinations and calculate the distance between them. This tool also provides information like landmarks, restaurants and attractions near popular places.