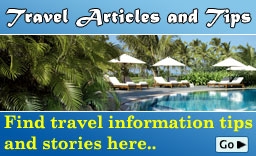 Goa Weather in January

Sunshine
Tempreture varies from 26 to 36 C in January
The search for the perfect beach destination in India leads to Goa. The small state located on the west coast of India is one of the most popular tourist destinations
Things to Do
Activities
Entertainment
Sights
Practical Information
Things to Do in Goa
One of the most visited destinations in India, Goa needs no introduction. The 130 kilometer long coastline of Goa is dotted with an endless expanse of golden sands and swaying palm fringes. These beaches are the perfect place for sun basking, swimming and water sports. But Goa tours is not all about beaches, there are a lot more things to do in Goa. if you've not been here before, Goa will surprise you and pleasantly so.
Water Sports and Beach Activities in Goa :
If you are an adventure lover and loves to take part in the thrilling activities, Goa offers a host of water activities such as water skiing, scuba diving, motor biking, para-sailing, wind surfing, motor boating snorkeling and canoeing. Parasailing and water skiing are particular favorites with locals and tourists alike. There are government approved, certified water sports proprietors who vend their services to visitors. However, we suggest you check and double check on your safety measures. For all the aforementioned water sports, Goa beaches are the destinations to be at.
Sightseeing in Goa :
Goa has a rich and diverse historical past and the heritage buildings, forts and churches prove it. The Old Goa abounds with many churches and cathedrals built after the arrival of Portuguese colonies during the 15th and the 16th century. The colonial influence is quite obvious in most parts of Goa. Besides churches, you can also visit mansions, heritage homes, temples and museums exhibiting historical remnants. Goa is, in fact, a particular treat for architecture lovers and you can actually see field trips conducted for architecture students.
Adventure and Other Activities :
Apart from water sports, there are several other activities to indulge such as trekking in the hills and exploring the wildlife species in their natural habitat. You can choose to enjoy late night parties, bonfire and campfire on the beaches. Goa is home to some of the best discos and casinos such as Casino Goa, located on a yacht known as MV Caravela. It features 12,000 square feet of space equipped with 50 gaming tables and 30 slot machines. In a nutshell, if you're in Goa, you will not miss Vegas that badly!
Shopping :
One of the main attractions in Goa is the Wednesday flea market at Anjuna beach. Here you can bargain for local Goan handicrafts, jewelry and souvenirs. Another popular place to shop for local handicrafts, spices, art pieces and local food is the Mapusa market. Then there is Calangute Market Square located nine miles away from the North. The streets of Calangute are brimming with several shops selling souvenir items, metal crafts, clothes, leather items and jewelry. The Saturday night market at Baga Beach is a must visit place for cheap clothes, trinkets, Goan cuisine and bric-a-brac.
Tattoos :
Another exciting thing that can be done on a beach is to get a black henna tattoo painted on your body by a professional tattoo artist. The best part of a henna tattoo that it fades away after a couple of weeks; so if it was an act out of sheer inebriation, you will not regret it for long! Baga, Anjuna and Calangute beaches are teeming with several professional tattoo studios. We would still suggest you check your tattoo artist for his certification and ensure basic hygiene protocol such as a using a fresh syringe and standard inks.
Spice Plantation :
The Sahakari Spice Farm, situated at the Ponda village, is the largest spice farm in India. Now, if you have always wondered about India's spice connection, this is where you need to be. Take a stroll around the farm to explore spice plantations, bathe under the elephant shower and tickle your taste buds with a traditional Goan lunch cooked with farm spices. The farm is open on all days to visit and you get shown around by an informed, senior member of staff who diligently explains the nuances of various spices. You can even request for small samples to take back home.
Dolphin Drive :
Dolphins are probably the cutest animals visible on the planet earth. Watching a dolphin peeping out of the sea water is, indeed, a lot of fun. Many local boat owners take you to deeper waters for a modest sum and let you observe dolphins from close quarters. Most operators are based around Calungate beach, Candolim beach and Palolem beach. Watch dolphins swim next to your boat as they indulge in their playful antics. A word of caution – please do not attempt swimming with the dolphins as they might find it intrusive and attack. Remember, we can arrange dolphin drives and other peripherals in your Goa tour package itself.
Thrilling Nightlife :
Goa needs no introduction for its nightlife. There isn't one place in the Indian subcontinent which can outdo Goa in partying. The beach shacks are a great destination to experience the thrilling nightlife of Goa. You will find people grooving on the electronic dance music and drinking cheap, tax free liquor. Tito's, Stonage Palace and Casa Mia know how to throw a rocking party and you can never get enough of Goa's awesome nightlife. Most clubs offer free entry to couples and the duty free liquor policy will only lift up your spirits.
Cruises :
One of the most enjoyable things to do in Goa is to go on a cruise ride on the Mandovi River. During the night, the yachts are fully lit up. One can choose from sunset/moonlit/Casino cruises. Although gambling is illegal in India, most cruises in Goa take you out into international waters and throw open the gates to their casinos. Apart from gambling, one can always lie about on a cruise and admire the sea whizzing by as the cruise sets in idyllic motion. You can also charter these cruises to hold parties and seminars. This is one party destination you can never get wrong about.
Christmas Celebrations :
Being predominantly populated by Christians and the obvious Portuguese influence, Goa is one place you must celebrate Christmas in. In fact, Christmas is the best time to visit Goa. During the Christmas week, Goan lanes are lit up with dozens of carols and lamps. Even the Hindus residing in Goa partake in this festival with sheer enthusiasm and zeal. There are several cultural festivals attended by gatherings of tens of thousands. The Sundance Festival, held in the last week of the year, deserves a special mention here.
Goa from a Wildlife Angle :
A sizeable chunk of Goa's land plays host to the fauna and avifauna species. There is a total of 4 wildlife sanctuaries in Goa- Bondla Wildife Sanctuary, Mahavir Wildlife Sanctuary, Cotiago Wildlife Sanctuary and Salim Ali Bird Sanctuary. Most wildlife sanctuaries are located within a fleeting distance from most hotels and beaches. GoaTrip arranges 1 or 2 day trips to all wildlife sanctuaries in Goa. We will also provide you with a personal guide to show you around Goa's untouched wildlife. So you have a lot of variety available in terms of wildlife exploration in Goa.
Car and Bike Rentals :
Cars and Bikes are easily available for rent in Goa. You need to submit valid identity documents and a suitable deposit as security for the vehicle leased or rented. While in Goa, one can indulge in bike riding to explore the interior regions of this tiny Indian state. A bike ride through the countryside will help you explore lush green landscapes and bring you face to face with the picturesque beauty of Goa. Hiring bikes and cars is quite a common trend in Goa and you get some mouth watering deals on group bookings.