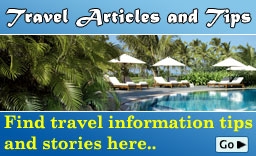 Goa Weather in March

Sunshine
Tempreture varies from 26 to 36 C in March
The search for the perfect beach destination in India leads to Goa. The small state located on the west coast of India is one of the most popular tourist destinations
Things to Do
Activities
Entertainment
Sights
Practical Information
Climate & Weather
The climate & weather of Goa plays an important part in luring tourists to this paradisiacal destination. The temperate weather of Goa with a constant average temperature throughout the year is enjoyed by most tourists. Knowing about the climate helps you to make your travel plans.
You will not find any major variations in the Goan climate & weather, even with the change in seasons. The proximity to the coastal regions influences the weather of Goa. The monsoons are however, quiet prominent.
Summer :
Summer months: April - June
The summer months are a bit harsh with temperatures sometimes reaching 40oC. The maximum average temperature range for the summer months is nearly 32oC, with the average minimum temperature of 26oC. The hottest month is May with temperatures often rising up to 35oC. The humidity level also rises during the summer months. The local residents, during the summer months have a custom of taking rest during the afternoon. From 1 till 4 in the afternoon is relaxing time, known as "Siesta."
Monsoon :
Monsoon months: Late June - September
The monsoon season enters Goa during late June or early July. The arrival of monsoon brings in a much needed relief after the humid season in Goa. Unlike the other seasons, the monsoons can be clearly identified. In contrast to the glorious sunny weather, the rainy season is marked by heavy continuous rainfall. The average rainfall during the monsoon season is approximately 325 centimeters. The days are marked by overcast skies and very little sunshine. The average maximum temperature is 29oC during these months.
Winter :
Winter Months: October - March
The winter is the most ideal season of Goa for tourism. You will not get the oppressive heat and humidity of the summer season, nor will you get the dreary, wet weather of the monsoon months. During winter season, the climate of Goa is marked by sunny, pleasant weather during the day and cool evenings. The breeze that blows all day is very soothing. Even during the winter months the average minimum temperature is approximately 20oC.