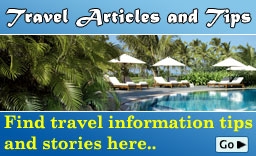 Goa Weather in March

Sunshine
Tempreture varies from 26 to 36 C in March
The search for the perfect beach destination in India leads to Goa. The small state located on the west coast of India is one of the most popular tourist destinations
Things to Do
Activities
Entertainment
Sights
Practical Information
Lakes of Goa
The popularity of Goa is mainly due to its beautiful beaches, but that's not just all. Goa houses a rich number of beautiful lakes. The Lakes in Goa has a scenic appeal that gives peace to beautiful minds. Although most lakes in Goa are used for irrigation purpose, they have a scenic feature as well. These lakes are counted amongst the most prominent tourist attractions in Goa. With their calm & natural ambience and recreation facilities such as boating, they catch the attention of the tourists. Most of the lakes are home to migratory birds and attract ornithologists and bird watchers.
Listed below are some popular lakes in Goa:
Mayem Lake
Located close to the Bicholim Beach and also known as Maya Lake, Mayem Lake is the most famous lake in Goa. It is situated amidst the folds of massive hills. It is counted among the few lakes considered to be ideal for weekend picnics. Here, you have a great chance to admire a variety of birds such as Herons, Egrets, Pheasant Tailed Jacana, Pygmy Goose and Comb Duck etc. This lake is an ideal picnic spot with cottages and boating facilities.
Carambolim Lake
Located just 12 kilometers away from Panaji, in the heart of Carambolim Village, Carambolim Lake adds to the charm of the peaceful hamlet. It is a beautiful reservoir embellished with lush greenery all throughout. One can spot spectacular bird species amidst the greenery. It is home to a wide variety of bird species such as Pintail Ducks, Cattle Egret, Little Egret, Coots, Pond Heron, Marsh Harriers and Purple Moorhen.
Curtorim Lake
Just like other famous lakes in Goa, Curtorim Lake is a popular destination for bird watchers in South Goa. It is ecologically better place since the killer Weed Salvinia is not present here. Both birds and bird watchers flock here to witness some of the rare species. The lake is entirely clean and a successful tourist destination. Besides, you can also enjoy a boat ride in this lake.