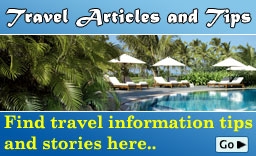 Goa Weather in March

Sunshine
Tempreture varies from 26 to 36 C in March
The search for the perfect beach destination in India leads to Goa. The small state located on the west coast of India is one of the most popular tourist destinations
Things to Do
Activities
Entertainment
Sights
Practical Information
Religion in Goa
Goa is a miscellany of different cultural and traditional richness. Talking about the culture of Goa, there is a clear influence of various cultures witnessed. But, being an erstwhile Portuguese colony, the state showcases the strong hold onto the Portuguese culture. The potpourri of multitude cultures is something that makes Goa unique in its very own way. The population of Goa respects other religious equally as their own. The state also celebrates every festival and feast with great show and grace. The harmonious and cosmopolitan environment of the state encourages tourism.
Christianity in Goa:
Christianity in Goa arrived together with the Europeans. Along with the traders, few priests arrived in Goa and found it to be an ideal destination to spread the word of Christianity. Various churches were built to provide religious learning for the colonialists. Thereafter, during the inquisition, the influence of Christianity started spreading throughout the state. Among the major attraction in Goa, some of the churches are worth visiting.
Hinduism in Goa:
Along with Christianity, 95% of the total Goan population accounts to Hinduism. As Goa was ruled by various Hindu rulers, various temples and religious structures were constructed during ancient and medieval era. As Islam got introduced in Goa, for some time the Christianity and Hinduism were under threats. During the inquisition, the Portuguese tried hard to suppress the religion. Various temples were damaged and forced conversions were out of control. Henceforth, in 1812, after the end of the inquisition and end of Portuguese colonization in Goa, the Hindu religion flourished again and was regarded as the leader amongst the religions in Goa.
Islam in Goa:
With the first invasion of the Delhi Sultanate, Islam was introduced in Goa. Thereafter various mosques and religious centers were constructed in Goa. Although, Islam did not get very strong in the state there is a minority, still practicing the faith and the festivals are also celebrated with great enthusiasm.
The population of Goa also comprises of a very small ratio of Jains and Buddhists.