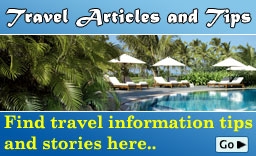 Goa Weather in March

Sunshine
Tempreture varies from 26 to 36 C in March
The search for the perfect beach destination in India leads to Goa. The small state located on the west coast of India is one of the most popular tourist destinations
Things to Do
Activities
Entertainment
Sights
Practical Information
Cuisines
Fondly known as the 'Beach Capital of India', Goa has several other alluring aspects and food is one of them. Goa is a true heaven for the food lovers. The diverse cultural groups that inhabited this place at one point of time have left an impression on the traditional Goan delicacies. Besides traditional fare, one can also savor various international delicacies. The local South Indian food is also offered in Goa.
No matter whether you like vegetarian or non-vegetarian food, in Goa, you will find all kinds of cuisine varieties. The staple diet of Goan natives is fish curry and rice. The influence of Muslim and Portuguese culture is apparent in the wide range of cuisines offered in Goa. Owing to its strategic location along the Konkan coast, you will find that Konkani food is also served here. A lot of traditional Goan dishes are prepared with the use of chilies and spices.
Non - Vegetarian Food
A large number of non-vegetarian dishes prepared in Goa includes meat and chicken. Chicken/beef sausages are often garnished with different spices & vegetables. Some popular names of non-vegetarian food offered in Goa:
Galhina Piri - piri
Iscas de Galinha
Chicken Cafreal
Chicken Xacuti
Pao com Chouricos
Sorpotel
Pork Vindaloo
Vegetarian Food
Vegetarian food is no less popular than the non-vegetarian and seafood. Some vegetarian favorites include:
Alsandachem Tonakh
Sprouted moong Ussal
Cashew green peas Bhaji
Kuval
Coconut Soufflé
Sushelle
Mushroom Tondak
Seafood
Seafood is the soul of Goa cuisines and food tour of this tiny Indian state is incomplete without gorging upon the lip smacking seafood delicacies such as lobsters, shrimp, crabs and prawns. Fish is the staple diet of Goan populace. Some famous names of seafood cuisines include:
Crab xec xec
Seafood Caldeira
Dry Prawn Kismur
Balchao de Camaro
Fish Caldine
Sweet Dishes
It is imperative to tickle your taste buds with some mouth watering sweet dishes of Goa.
Bolo Sans Rival
Dhonos
Pinaca
Koiloreo
Bebinca
Marzipan
dodol
Sannas
Cocada