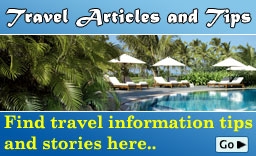 Goa Weather in June

Sunshine
Tempreture varies from 26 to 36 C in June
The search for the perfect beach destination in India leads to Goa. The small state located on the west coast of India is one of the most popular tourist destinations
Things to Do
Activities
Entertainment
Sights
Practical Information
Sports Centers / Organizations Goa
Goa, with its wide coastline, is an ideal place for water sports. There are many water sports centers /organizations in Goa where you can train and get equipment for enjoying the various water sports. Apart from water sports there are a number of trekking, football and athletics organizations in Goa.
Water sports associations in Goa :
There are various sports centers /organizations in Goa, which makes the various water sports more enjoyable for you. Some of the popular water sports associations are:
Aqua Sports India
Dolphin Adventure Sports LTD
Goa Diving
Hydro Sports
Water Sports Club
Aaron Rishika Adventures
Barracuda Diving
National Institute of Water Sports
Dominic water sports
Bogmalo Beach Park Plaza Resort
There are also certain hotels, which offer assistance in water sports. You can rent your gear, and a representative accompanies you to ensure your safety.
Dinghy sailing is yet another popular water sports in Goa. You can hire dinghies at the Taj Holiday Village and Cidade de Goa.
Land sports associations in Goa:
Trekking and hiking are popular activities that are much enjoyed by tourists. There are two such organizations, which arrange for treks once a year. The Goa Hiking Association (Panaji) and the Youth Hostel Association of India (Goa branch) arrange for treks and hikes in Goa.
Football and cricket are two other popular sports in Goa. The Goa Football Association and Goa Cricket Association are two famous football and cricket clubs of Goa. There is also an Athletics Association, which is affiliated by the Athletics Federation of India.
Goa is a favorite place for golfing, there are a number of 12 and 9 hole courses that makes golfing a pleasure.
Other sports centers /organizations in Goa:
Adventure tours, river cruises, football associations and golfing clubs, you will find all these in Goa. In the certain areas there are "gymkhanas", where bodybuilding and work outs are religiously practiced. Panjim Gymkhana and Bicholim Gymkahna are the names of two such places. Some other sports clubs of Goa are:
Salgaonkar Sports Club
BPS Sports Club
Vasco Sports Club
Taleigao Chess Academy Sports Club
Flying Disc Association of Goa
Before you quit, may I help you?
Kindly give us your requirement and our travel expert will help you to plan your tour.
Plan my Trip!