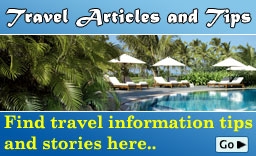 Goa Weather in June

Sunshine
Tempreture varies from 26 to 36 C in June
The search for the perfect beach destination in India leads to Goa. The small state located on the west coast of India is one of the most popular tourist destinations
Things to Do
Activities
Entertainment
Sights
Practical Information
Trekking Goa
Are you looking for a break from the beaches of Goa? If yes, then you might consider the hiking and trekking options. There are many places of natural beauty that you can explore; the terrains are just perfect for trekking and hikes. Trekking expeditions in Goa are arranged by many professional institutions. You can register with one of them and have a well organized trek through Goa.
Places to trek :
The Sahyadris are the best places for trekking in Goa. The beautiful natural settings add to the thrill of this adventure activity in Goa. While trekking, you will come across places known for their natural beauty. Mollem, Valpoi Goa and Sanguem Goa are a few of the popular trekking destinations.
Mollem :
The Mollem National Park is one of the key attractions of Goa. The Park is a part of the Bhagwan Mahavir Wildlife Sanctuary. The dense forested lands with many different varieties of flora and fauna is one of the key highlights of your visit to this place. You can trek through the mud trails, and if you are lucky you just might catch a glimpse of bisons and other types of wild animals.
Valpoi :
This is a village located in the Sattari taluka of Goa. Rocky hills and dense forests offer ample ground for trekking in Goa. There is a hunting spot - Rede Ghati, which you can check out while exploring the area on foot.
Sanguem :
While trekking through Goa, you must not miss out on a trip to the famous Dudhsagar Waterfalls. The latter is the fifth highest waterfall in the country. The surrounding wooded lands and the gushing waterfall paints a very captivating picture.
Best time for trekking :
Though trekking can be undertaken in Goa, all the year round, the best season is during the months of October - December.
Trekking organizers in Goa :
Goa Hiking Association, Panaji
Youth Hostel Association of India (Goa branch)
These are the two professional organizations that arrange trekking expeditions every year. In December the Youth Hostel Association organizes the National Trekking Expeditions. The Goa Hiking Association organizes trekking expeditions in October.
Before you quit, may I help you?
Kindly give us your requirement and our travel expert will help you to plan your tour.
Plan my Trip!