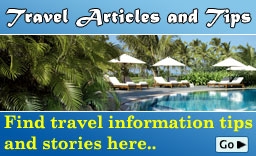 Goa Weather in March

Sunshine
Tempreture varies from 26 to 36 C in March
The search for the perfect beach destination in India leads to Goa. The small state located on the west coast of India is one of the most popular tourist destinations
Things to Do
Activities
Entertainment
Sights
Practical Information
How to Reach Goa
Access to Goa is offered by different modes of transport. This famous beach destination of India boasts of very good infrastructure in all the modes - air, road, railway, and water. Before embarking on a trip, get a few tips on how to reach Goa in GoaTrip.
By Air :
Goa, being a world famous tourist destination, is very well connected by air to all parts of India, and some foreign destinations as well. A large number of domestic and international carriers operate flights to Goa from major destinations. Delhi, Mumbai, Pune, Cochin, Bangalore, Thiruvananthapuram and Chennai are the main cities connected by air to Goa. The Dabolim airport serves the state. It is located about 35 kilometers from Panaji, the state capital.
Indian airlines, Go Air, Deccan, Indigo, Jet airways, Jetlite, Kingfisher, and Spice jet operate flights to and from Goa.
International destinations like Tokyo, London, Chicago, New York and Paris are also connected with Goa by regular chartered flights.
By Railway :
Goa is well connected by a large number of trains from all parts of the country. Madgaon is the main railway station, while Vasco da Gama is the other important railway station in Goa. Konkan railway operates trains from the neighboring states like Maharashtra and Karnataka. Mumbai, Bangalore, Delhi, Mysore, Pune, and Hyderabad are well connected by rail to Goa.
By Road :
The state is linked by the national highways - NH-4A, NH-17 and NH-17A. The roads are well maintained and connect to places like Mumbai, Daman, Diu, Bangalore, and Pune. Within the state, the road transportation in Goa is offered by the Kadamba State Transport Corporation. Tourist buses, taxis, motor cycle taxis, car rentals and bike rentals offer transportation in Goa.
By Sea :
Private operators run catamaran services from Mumbai to Goa. Intercity water transport is offered by a large number of ferries.