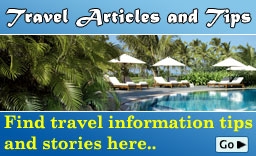 Goa Weather in June

Sunshine
Tempreture varies from 26 to 36 C in June
The search for the perfect beach destination in India leads to Goa. The small state located on the west coast of India is one of the most popular tourist destinations
Things to Do
Activities
Entertainment
Sights
Practical Information
Institute Menezes Braganza Goa
Looking for an interesting place to visit during your leisure time in Goa? Pay a visit to the Institute Menezes Braganza and feel yourself get drawn into the enchanting world of ancient painting sculptures and artifacts that will engage you immediately. Spending a relaxed and enchanting time at the Institute Menezes Braganza in Goa can be an interesting option included in your sightseeing in Goa.
The Institute Menezes Braganza in Goa was established in the year 1871 and was originally known as the Institute of Vasco da Gama. The museum was eventually renamed after the famous freedom fighter Menezes Braganza.
The Institute Menezes Braganza is one of the most prominent museums in Goa. It is in fact a century old institution that has become an integral part of the cultural heritage of Goa. The museum houses many spectacular pieces of paintings, sculptures, drawings and antiques that date back to the Portuguese rule in Goa.
Institute Menezes Braganza - Exhibits:
The exhibits of Institute Menezes Braganza are housed in an extremely attractive building that exudes the Portuguese style of architecture. The regal structure of the museum welcomes you to come and experience the true mastery of many European, Portuguese and Indian artists belonging to the 19th Century and 20th Century respectively.
The art gallery situated in the upper level of the museum is the place to head to see some of the fabulous pieces of paintings, rare prints, stone sculptures, coins, stamps, and artifacts made from bronze and terracotta.
The sculptures, oil paintings and drawings by famous artists such as Henry Russo, Pissaro, Cezanne,Groze, Reonar and Mattis Broque are some of the star attractions in the gallery. Also not to be missed are the creations of some famous Indian artists such as M F Hussain, Souza, Prafull Dahanukar, Laxman Pai and Raza
A definite must visit is the Panaji Central Library located in the museum. Said to be one of the oldest libraries in India, you will come across several rare collections of extremely valuable books housed in this treasure chest of information and documents.
Before you quit, may I help you?
Kindly give us your requirement and our travel expert will help you to plan your tour.
Plan my Trip!