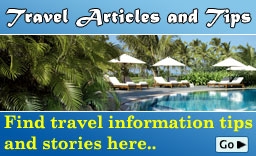 Goa Weather in June

Sunshine
Tempreture varies from 26 to 36 C in June
The search for the perfect beach destination in India leads to Goa. The small state located on the west coast of India is one of the most popular tourist destinations
Things to Do
Activities
Entertainment
Sights
Practical Information
Goa State Museum in Goa
The Goa State Museum in Goa was founded in the year 1977. It was originally located on the premises of the St. Anez building. The museum was subsequently shifted to its present location at Patto in the year 1996. It is run under the guidance and management of the Department of Archives in Goa.
The Goa State Museum was established with the aim to preserve the spectacular artifacts and ancient sculptures that are a testimony to the long and vibrant history of Goa. Goa State Museum has done its part in helping to preserve and protect the heritage and traditions of Goa. In fact, Goa State Museum has become one if the most popular museums in Goa that attracts a number of visitors and guests every year from all parts if the world.
Goa State Museum - Exhibits:
The Goa State Museum has an impressive and valuable collection of artifacts and sculptures that date back many centuries. There are over 800 exhibits in the museum. Some of the main valuables preserved in Goa State Museum are:
Antique Wooden Objects
Stone Sculptures
Indian Paintings
Bronze Items
Manuscripts
Anthropological Objects
Hindu and Jain Scriptures
Goa State Museum Sections:
The entire Goa State Museum has been divided into 12 different sections:
Sculpture Gallery
Goa's Freedom Struggle Gallery
Christian Art Gallery
Numismatic Gallery
Banerji Art Gallery
Furniture Gallery
Religious Expression Gallery
Menezes Braganza Gallery
Cultural Anthropology
Environment & Development Gallery
Contemporary Art Gallery
Other Display
The most popular sections of galleries include the Freedom Struggle Gallery, Sculpture Gallery and the Contemporary Art Gallery.
The Freedom Struggle Gallery contains the rare photographs that were taken during the period when Goa was fighting for its freedom. The Sculpture Gallery houses the copper inscriptions and the unique stone sculptures. The Contemporary Art Gallery is also extremely popular for its collection of numerous Indian paintings and sculptures that were made by famous painters and artists from Goa as well as other parts of India.
If you are interested to know more about the history and culture of the vibrant state of Goa, visit the Goa State Museum to get a thorough understanding of its origins.
Before you quit, may I help you?
Kindly give us your requirement and our travel expert will help you to plan your tour.
Plan my Trip!