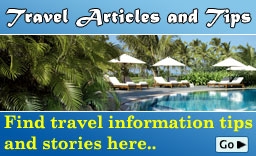 Goa Weather in August

Sunshine
Tempreture varies from 26 to 36 C in August
The search for the perfect beach destination in India leads to Goa. The small state located on the west coast of India is one of the most popular tourist destinations
Things to Do
Activities
Entertainment
Sights
Practical Information
Dr Salim Ali Bird Sanctuary
Wildlife sanctuaries are among the most popular tourist attractions in Goa. There are several wildlife sanctuaries in Goa that enjoy thriving animal and plant life. The Dr Salim Ali Bird Sanctuary situated in Goa is also counted among the top tourist attractions in the state. The sanctuary is home to a number of animals and plant life. Every day, hundreds of visitors come to Dr Salim Ali Bird Sanctuary to watch the spectacular wildlife of Goa at its best.

Dr Salim Ali Bird Sanctuary was set up as a safe haven where countless species of birds could thrive and settle down. The populations of birds that can be seen at the sanctuary include both migratory birds as well as local species. The entire sanctuary covers a total area of 1.8 sq. kilometers. It is also the smallest sanctuary in Goa. The eco-system of the sanctuary is well- balanced to facilitate the breeding and multiplication of birds.
Flora at Dr Salim Ali Bird Sanctuary
The main vegetation that you will find spread across the landscape of the sanctuary is the mangroves shrubbery. The mangrove shrubbery is located on the banks of the Cumbarjua canal as well as the Mandovi and Mapusa rivers. The mangrove vegetation is perfectly suited for the sanctuary. The environment required to support the vegetation makes it a blooming ecology for small insects and fishes. This attracts the birds which flock to these grounds to feed on the insects and fishes.

Fauna at Dr Salim Ali Bird Sanctuary
Since it is a bird sanctuary, you can prepare yourself to be dazzled by the different varieties of striking birds that flourish here. To see the migratory birds, the best time to visit the sanctuary would be during the months from October to March. Pintails, egrets, kingfishers and coots are some of the commonly seen species of birds at Dr Salim Ali Bird Sanctuary.

You must also check out the foxes, jackals and crocodiles which prosper in the eco system of the sanctuary.