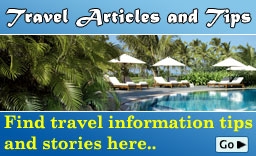 Goa Weather in August

Sunshine
Tempreture varies from 26 to 36 C in August
The search for the perfect beach destination in India leads to Goa. The small state located on the west coast of India is one of the most popular tourist destinations
Things to Do
Activities
Entertainment
Sights
Practical Information
Dandeli Wildlife Sanctuary
The Dandeli Wildlife Sanctuary is the largest and most popular wild life sanctuary in Goa. This wildlife reserve in Goa offers the opportunity to indulge in a wide range of activities such as wildlife safaris, white water rafting, crocodile sightseeing trips and boating. The Dandeli Wildlife Sanctuary is the perfect combination of dense woods, lush greenery, exotic species of wildlife and a thriving eco system.

The Dandeli Wildlife Sanctuary attracts scores of tourists everyday from all parts of Goa and beyond. The main attractions of the Dandeli Wildlife Sanctuary in Goa include the following:

Fauna at Dandeli Wildlife Sanctuary, Goa
The animal population thriving in Dandeli Wildlife Sanctuary includes the names of some exotic and protected species of animals such as:
Elephants
Tigers
Wild Pigs
Wild Dogs
Black Panthers
Monkeys
Mongoose
Deer
The sanctuary is also home to some unusual and rarely seen creatures such as the sloth bears, barking deer, the Indian pangolin and the Malabar giant squirrel. The sanctuary is also termed as a bird watchers' paradise. In total, there are 196 species of birds living in the sanctuary. The most famous species include the Great Pied Hornbill, Peregrine falcon Blue-Throated Barbet and most importantly the Malabar Pied Hornbill which visit the sanctuary in the months of August and September.

Flora at Dandeli Wildlife Sanctuary, Goa
The Dandeli Wildlife Sanctuary is also home to some exotic species of plants, trees and vegetation. You will be enchanted by the mixed numbers of bamboo and teak plantations that are abundantly spread across the lands of the sanctuary. There are also innumerable fruits trees that attract the birds from nearby areas.

Other Attractions at Dandeli Wildlife Sanctuary, Goa
Dandeli Wildlife Sanctuary offers wide range of activities that you can undertake for your entertainment and knowledge during your visit to the sanctuary. The sanctuary offers the chance to enjoy the thrilling experience of white water rafting. The sanctuary provides rafting opportunities at the Virnoli Rapids connected to the Kali River. You can also undertake nature walks, boating, bird watching, crocodile spotting and fishing trips offered by the sanctuary.