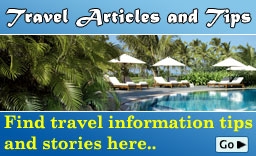 Goa Weather in August

Sunshine
Tempreture varies from 26 to 36 C in August
The search for the perfect beach destination in India leads to Goa. The small state located on the west coast of India is one of the most popular tourist destinations
Things to Do
Activities
Entertainment
Sights
Practical Information
Cotigao Wildlife Sanctuary
Cotigoa Wildlife Sanctuary is situated in Canacona district, in the south of Goa. The sanctuary lies at a convenient distance of 2 kms from the Poinguinim and 10 km away from Chaudi making is easy to approach. It is one of the second largest wildlife sanctuaries in Goa which was set up in 1969. Spread in the wide area of 86sq.kilometer this wildlife sanctuary touches the border of the Karnataka state. The Cotigoa Wildlife Sanctuary vegetation is mostly moist-deciduous type.
This wildlife reserve is sure to make the tree lovers feel splendid as its surroundings are flanked with evergreen and semi-evergreen trees. Another highlight of the Cotigao Wildlife Sanctuary is the Natural Interpretation Centre. This center is managed by the Cotigoa forest department and is an important warehouse of knowledge.
The forest department provides the traveler with basic facilities like reference material, snake-proof camping sites and canvas tents. For the people who love adventure there no dearth of it in this wildlife sanctuary.
The Cotigao Wildlife Sanctuary in Goa features an abundant deciduous foliage and various species of animal kingdom flourishing in the dense vegetation that covers the land of the sanctuary. While exploring the sanctuary one can enjoy the sight of Talpona River that traverses through the forest and is a permanent water source for the inhabitants of this sanctuary.
The major wildlife seen at this wildlife sanctuary include Indian Bison, Laughing Hyenas, Sloth Bears, Monkeys, Wild Boars, Deer and Gazelles. While the various birds that can be spotted in the thick surrounding of this wildlife sanctuary include White-eyed eagle, Malabar crested eagle and Rufus woodpecker. The greenery spread around the sanctuary offers a perfect shelter to wildlife for surviving and flourishing. The vegetation is quite thick and dense in most areas of the sanctuary.