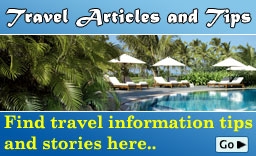 Goa Weather in August

Sunshine
Tempreture varies from 26 to 36 C in August
The search for the perfect beach destination in India leads to Goa. The small state located on the west coast of India is one of the most popular tourist destinations
Things to Do
Activities
Entertainment
Sights
Practical Information
Bondla Wildlife Sanctuary
Wildlife is thriving and abundant in Goa. There are several wildlife preservation centers and wildlife sanctuaries in Goa that are major tourist attractions. The Bondla Wildlife Sanctuary, Goa is one of the main animal life preservation centers in Goa. Though the Bondla Wildlife Sanctuary had initially been set up as an asylum for orphaned or injured animals, today, it has grown to become one of the main animal sanctuaries in Goa.

The Bondla Wildlife Sanctuary faces problems due to the shortage of area. For this reason, the sanctuary is often known more popularly as a wildlife resort. The Bondla Wildlife Sanctuary includes many different parts.

Sections of Bondla Wildlife Sanctuary

The Bondla Wildlife Sanctuary is divided into:
Botanical garden
Rose garden
Zoo
Deer safari park
The Botanical garden and the Rose garden are known for exhibiting some of the most exotic species of flora. The flora of the sanctuary includes a number of deciduous forests that are home to the spectacular varieties of trees such as:
Matti
Jamba
Lagerstroemia
Rosewood
Kindall
Mimusops
The landscape of the sanctuary is also rich with thorny bamboo plantations.

The Bondla Wildlife Sanctuary zoo is home to a number of species of royal cats such as panthers, gaurs, leopards and other jungle cats. The deer safari park is famous for its spotted, sambar, barking, mouse and hog deer which are not to be missed. Other species of wildlife that you can see at the Bondla Wildlife Sanctuary include the wild boar, ruby throated yellow bulbuls, golden backed woodpeckers, common grey hornbills, monkeys, jackals, wild boar, pythons, bison and the Malabar giant squirrel. The sanctuary is also conducting breeding programs to increase the population of deer.

Nature Education Center at Bondla Wildlife Sanctuary

Another section that is a must visit at The Bondla Wildlife Sanctuary is the Nature Education Center. The center was set up to attract more people and to create awareness and interest among the people of Goa regarding the importance of protecting the rich wildlife of the state.