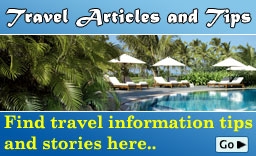 Goa Weather in October

Sunshine
Tempreture varies from 26 to 36 C in October
The search for the perfect beach destination in India leads to Goa. The small state located on the west coast of India is one of the most popular tourist destinations
Things to Do
Activities
Entertainment
Sights
Practical Information
When to Go to Goa
The golden sand of the Goan beaches can be enjoyed throughout the year due to the uniform climatic conditions. The almost constant weather in Goa suits tourists from all parts of the globe, from different climatic conditions. Goa is not too hot in the summer, like the north Indian states, neither is it chilly in the winter. This makes for an ideal holiday destination, which Goa undoubtedly is. If you are deciding when to go to Goa, then read on. The factors you need to consider are not only concerned with climate. The festivals and events of Goa should also be considered while deciding on when to go to Goa.
Best season to visit Goa :
The best season, like most of the tourist spots in India, is winter. To be precise, the period between November to March is the most pleasant. The sunny weather is almost constant during this time, and the humidity is considerably lower.
The monsoons may dampen your spirits a bit in Goa. The region receives thunderstorms and heavy rains. During this period, many roads become difficult to maneuver. Many water sports activities like Deep sea fishing are also prohibited during the rains. So if you want to enjoy Goa completely, the winter months are the ideal. However, the greenery is at its saturated best during the monsoon months (July - September).
Tourist Season in Goa :
The tourist season starts around September and continues till March. These months are difficult for getting in Goa, as reservations, and hotel bookings are hard to get. You are advised to look for accommodation and travel bookings well in advance. The rush is quite high.
Festivals and Events of Goa :
The festivals and events of Goa are among its major tourist attractions. The plans for Goa should be made keeping in mind the main events and festivals of the region. Ganesh Chaturthi, Diwali and Holi are equally popular in Goa as in rest of India. However, the most popular Goan event is the Goa Carnival, held in February amidst tremendous fanfare. You can also visit Goa in Christmas and New Year. During this feel good festive season, Goa dons a festive look, enhanced by lamps, fireworks, cribs, and night long parties.
Before you quit, may I help you?
Kindly give us your requirement and our travel expert will help you to plan your tour.
Plan my Trip!