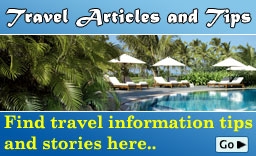 Goa Weather in October

Sunshine
Tempreture varies from 26 to 36 C in October
The search for the perfect beach destination in India leads to Goa. The small state located on the west coast of India is one of the most popular tourist destinations
Things to Do
Activities
Entertainment
Sights
Practical Information
Health and Safety
Tourism in Goa is growing at a remarkable pace, thanks to constant upgradation of tourism related infrastructure in the state. Improvements in transportation, accommodation facilities, entertainment options, health and safety have contributed towards building a tourist friendly atmosphere in the state. Health and safety of tourists is of utmost important not only to the tourists themselves, but to the relevant authorities as well. Goatrip.com offers information about some of the important health and safety measures that are followed by the authorities in Goa. You will also find tips about health and safety during your trip in Goa.
Health Tips :
Avoid too much spicy food if you are unfamiliar with it. Always keep some medicine handy for indigestion.
Avoid drinking water from street side stalls and shacks. Most of the eateries in Goa offer packaged mineral water. Always carry your own bottle. Ice used in many road side eateries should also be avoided.
Street side eateries and shacks offer a wide range of delicious looking snacks. However, exercise extreme caution before you eat. Look for clean and well kept places. Insist on clean utensils. Be extra careful with your kids.
Avoid too much exposure to sun. Always carry a proper sunscreen lotion and cover your face and limbs as much as possible when you are not bathing.
To avoid the risk of HIV/ AIDS, casual, unprotected sex with strangers should be strictly avoided.
Safety Tips :
Avoid travelling alone. Goa is a safe place. However, as in anywhere in the world, some miscreants are always on the prowl even in Goa. There is safety in groups.
Be very careful about following your trainer's instructions when enjoying the water sports. Scuba diving, water skiing and even swimming should be done under the supervision of expert trainers.
Ride carefully if you are fond of riding the motorcycles. The roads in the villages may lure you into high speeds, but beware of the sharp turns. Carry the basic first aids as the nearest medical facility may be some distance away.
Carry a map if you are hiking and camping. Carry enough food, drinks, clothes and medicine for emergencies.
Respect local customs. Do not get into any argument with local folk. Goans are friendly people. Always try to befriend them.
Do not hesitate to ask for the help of the local police if there is any need. Tourists are well taken care of in this state.
Before you quit, may I help you?
Kindly give us your requirement and our travel expert will help you to plan your tour.
Plan my Trip!