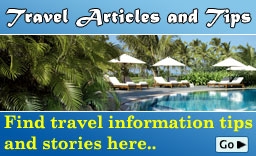 Goa Weather in September

Sunshine
Tempreture varies from 26 to 36 C in September
The search for the perfect beach destination in India leads to Goa. The small state located on the west coast of India is one of the most popular tourist destinations
Things to Do
Activities
Entertainment
Sights
Practical Information
Shri Shantadurga Temple Goa
Temples in Goa are a known for their truly magnificent architecture and spectacular locations. With a majority of Hindu population, it is no wonder that Goa is home to a number of temples. Every year, hundreds of devotees from all corner of the Goa and outside visit the temples to offer their prayers to their gods. Shri Shantadurga Temples located in Kavlem, Fatorpa and Pemem are well known and famous temples in Goa.
The goddess Shantadurga is worshipped at the Shri Shantadurga Temple. Devotees of goddess Shantadurga believe that she was the goddess of peace who had helped to solve the quarrel between the two great gods, Lord Vishnu and Lord Shiva.
Shri Shantadurga Temple in Kavlem:
The Shri Shantadurga Temple in Kavlem was built in the year 1782 AD and is said to be the largest temple in the state. Located around 33 kilometers away from the main city of Panaji in Goa, Shri Shantadurga Temple in Kavlem attracts a number of devotees from all over the state and even from outside. The architectural structure of the temple is very impressive. The 'Deepa Stambha' or the light tower provides an added attraction to the temple. The temple also houses several Agrashalas where devotees coming from far can lodge during their visit to the temple.
Shri Shantadurga in Pemem:
The Shri Shantadurga Temple in Pemem is located at Dhargal in Pemem. It is situated around 14 kilometers from Mapusa. The idol of the goddess was shifted to Pemem Taluka in the 1550 A.D to save it from destruction in the hands of the foreign rulers. Today, the temple has become star attraction for Hindu worshippers in the region.
Shri Shantadurga in Kunkolienkarin:
The third famous Shantadurga temple is situated in Kunkolienkarin. It is located in Fatorpa which is around 18 kilometers away from Margao. The abode of the goddess was originally in Salcete Taluka at Cuncolim village. It was moved out of the village and shifted to the present location in the 16th Century to escape destruction. The temple celebrates the 'Zatra' of the goddess in the month of Pausha Shuddha Navami.
Before you quit, may I help you?
Kindly give us your requirement and our travel expert will help you to plan your tour.
Plan my Trip!