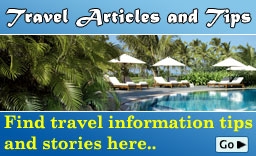 Goa Weather in September

Sunshine
Tempreture varies from 26 to 36 C in September
The search for the perfect beach destination in India leads to Goa. The small state located on the west coast of India is one of the most popular tourist destinations
Things to Do
Activities
Entertainment
Sights
Practical Information
Shri Datta Mandir Goa
The history Goan temples can be marked out around centuries back even before the rule of the Portuguese when were a number of temples in Goa. Most of those temples were destroyed and later reconstructed. But Shri Datta Mandir is one of those temples that remained untouched from the rage of the foreign rulers and is now one of the oldest temples in Goa.
Shri Dutta Mandir, located in Sanquelim is famed as a miraculous temple in Goa. It is believed that the trinity of Hindu mythology- Brahma, Vishnu and Shiva, are healers of all kinds of healing mental troubles and disorders. The locals have faith that the deity has cured a large number of people who had a troubled unstable mind through prayers. Surrounded by a hillock, this ancient temple is covered with thick palm groves. During your visit to the temple, you do not only have Darshan, but you also enjoy a great view. The enclosure of the temple has white marbles that enhances the religious feel. The architecture has intricate carvings.
History and Legend
The temple was built in the form of a shrine to keep the idol of Lord Dattatreya or Lord Trimurthy safe. He is the presiding deity of the temple that is believed to be a combination of Lord Brahma, Lord Vishnu and Lord Shiva- the Holy Trinity of Hindu mythology that are a symbol of creation, preservation and destruction. Whereas Lord Brahma symbolizes creation, Lord Vishnu preservation and Lord Shiva symbolize destruction. As per Hinduism, the Universe is controlled by the persistent cycle of creation, preservation and destruction.
Attractions
Shri Datta Mandir is snuggled between thick palm groves, a beautiful hillock and lush greenery from all sides. You do not seek blessings of the deity but also treat your eyes to the natural beauty which has a relaxing effect on your mind and eyes.
Festivals of Shri Dutta Mandir
Datta Jayanti is the most important festival that falls in the month of December.
Location
Shri Datta Mandir is located at a distance of around 37 kms from Panaji, the state's capital at Dattawadi in Sanquelim. It is around 40 kms away from Margao.
Before you quit, may I help you?
Kindly give us your requirement and our travel expert will help you to plan your tour.
Plan my Trip!