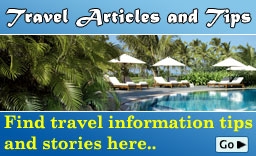 Goa Weather in September

Sunshine
Tempreture varies from 26 to 36 C in September
The search for the perfect beach destination in India leads to Goa. The small state located on the west coast of India is one of the most popular tourist destinations
Things to Do
Activities
Entertainment
Sights
Practical Information
Shri Damodar Temple Goa
Temples in Goa had suffered destruction and annihilation during the inquisition period by the Portuguese. To try and save the idols of their favored gods and goddesses, the residents of Goa hid them and then later reestablished them in different locations. Many of the locations of these relocated deities have become famous temples in Goa today. The Shri Damodar Temple is one such example in Goa.
The Shri Damodar Temple in Goa is located in Zambaulim. The place is situated around 22 kilometers away from the Margao city. Situated right at the banks of the famous Kushawati river, the Shri Damodar Temple attracts a number of devotes and visitors on a regular basis from all corners of the state.
The history of Shri Damodar Temple can be traced back many years ago. The temple was originally located at the site in Margao where the Church of Holy Spirit stands today. When the Portuguese government announced the destruction of all temples located in the area, the residents, devotees and priests of the temple removed the idol of the deity was removed to save it from the wrath of the foreign invaders.
The temple is dedicated to Shri Damodar, locally known as Danubab. He is even today considered as the main protector and god in the region of Margao. The deity is worshipped by both Christians and Hindus alike.
Residents of the area and the faithful devotees who visit the temple believe that the river Kushawati contains some special powers. The river water is said to posses healing powers. It is said that those suffering from some bodily ailments can cure themselves by taking a dip in the holy water. You can see many devotees taking a dip in the river water to wash their bodies.
The Shri Damodar Temple, Goa, also hosts a number of festive celebrations every year. The main festival celebrated in the temple is the Shigmo festival which is the Goan version of Holi which is celebrated in other parts of India. During this time, the temple is thronged by worshippers from all parts of the state. They come to watch the colorful fairs and popular folk culture shows organized by the temple.
Before you quit, may I help you?
Kindly give us your requirement and our travel expert will help you to plan your tour.
Plan my Trip!