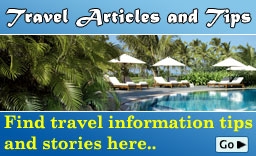 Goa Weather in September

Sunshine
Tempreture varies from 26 to 36 C in September
The search for the perfect beach destination in India leads to Goa. The small state located on the west coast of India is one of the most popular tourist destinations
Things to Do
Activities
Entertainment
Sights
Practical Information
Shri Chandreshwar Temple Goa
On a magnificent vacation to Goa, visit Chandreshwar Temple situated on the Chandranath Hill. The history of the temple dates back to the 17th century at the time of Bhoj Kings. In the erstwhile years the area in which the temple is presently located was known by the Chandrapur, once the Bhoj capital.
The Shri Chandreshwar temple is amongst the prime tourist attractions present in Goa. The visitors are required to take steep steps which are made from granite to arrive at the entrance of the temple. The temple is considered as an epitome of Lord Shiva and is dedicated to the Lord Moon.
The beautiful Shri Chandreshwar Temple is also home to famed Shiva Linga that is thought to have some magical powers. If the legends are to be believed the Shiva Linga is believed to ooze water when light from moon directly falls on it. The presence of this magical Shiva Linga is another reason for drawing thousands of visitors to its compound every day.
The architecture of the temple is modeled in such a way that the time the moon starts flashing in the sky at night, its light can fall directly on the Shiva Linga. At every full moon night the Shiva Linga gets immersed in beautiful moonlight.
The temple being situated on the top of the hill allows devotees to enjoy an aerial view of the surrounding valleys. While being at this temple also visit the ancient chariot present in the temple compound. The intricate carvings of the chariot are breathtaking and majestic.
The visit to the temple during Maha shiva Ratri festival is of special importance. This holly festival is celebrated with great pomp and show devotees from all regions of India gather to celebrate this festival.
Before you quit, may I help you?
Kindly give us your requirement and our travel expert will help you to plan your tour.
Plan my Trip!