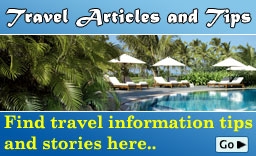 Goa Weather in September

Sunshine
Tempreture varies from 26 to 36 C in September
The search for the perfect beach destination in India leads to Goa. The small state located on the west coast of India is one of the most popular tourist destinations
Things to Do
Activities
Entertainment
Sights
Practical Information
Shri Bhagavati Temple Goa
Shri Bhagavati Temple is located a couple of kilometers away from Pemem in Pemem Taluka. The temple is one of the most special and well known temples located in Goa. The Portuguese rule was quite disadvantageous for the existing temples in Goa as they had to face destruction and devastation at the hands of the foreign rulers. Very few temples survived the wrath of the invaders. Shri Bhagavati Temple is one oft few temples that was allowed to stand. Today, it has become an integral part of the cultural heritage of Goa.
Shri Bhagavati Temple, Goa was built as a home to establish the idol of goddess Bhagavati Ashtabhuja. Bhagavati Ashtabhuja is said to be an incarnation of Goddess Durga having total of eight hands. The idol of goddess Bhagavati Ashtabhuja can be seen standing on a pedestal in the temple.
The Shri Bhagavati Temple in Goa is a large structure that encompasses a total of 5 smaller temples. The other deities include Shri Sateri, Brahma, Shri Dev Bhivangi Panchakshari and Shri Dev Ravalnath.
The temple is set in a beautiful location and has been designed with importance given to each intricate detail. The 'Deepstambhas' located on the premises of the temple are particularly striking. The entrance to the temple is marked by two huge life sized structures of elephants on either side, made from black stone.
The temple is host to some important festivals that draws in devotees from all corners of Goa. The Dussehra festival is one of the most important festivals celebrated with a lot enthusiasm at Shri Bhagavati Temple. Shigmo, Zatra and Bhajanisaptah are the other significant festivals celebrated at the temple. The whole temple comes alive with lights and lamps during these festivals. More than 20 thousand devotees throng the temple during the peak festival seasons. Its ever growing popularity has made Shri Bhagavati Temple one of the most famous temples in Goa.
Before you quit, may I help you?
Kindly give us your requirement and our travel expert will help you to plan your tour.
Plan my Trip!