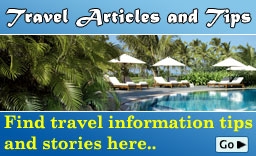 Goa Weather in September

Sunshine
Tempreture varies from 26 to 36 C in September
The search for the perfect beach destination in India leads to Goa. The small state located on the west coast of India is one of the most popular tourist destinations
Things to Do
Activities
Entertainment
Sights
Practical Information
Shri Ananta Temple Goa
Shri Ananta Temple in Goa is one of the most well known temples in the state. The popularity of the temple is spread so widely that devotees from all corners of the state and even outside come to pray at the temple. Located in the peaceful town of Sovoi Verem at Ponda Taluka, Shri Ananta Temple offers a soothing and divine ambiance where devotees can sit and pray to their god with full devotion.
The temple was built as a shrine for keeping the idol of Lord Anant Sheshashayi, the serpent which acts as the resting bed for Lord Vishnu. The idol has been beautifully carved out of shining black stone. Shri Ananta temple is also home to number idols of other famous deities such as Narayan, Shantadurga, Grampurush and Kamini.
Lord Vishnu has been worshipped by the residents of Goa for many years. He is considered as the protector, nurturer and redeemer of his devotees. Anant serpent is shown in a coiled form on which Lord Vishnu rests with Goddess Laxmi sitting by his side. Anant serpent provides protection over Lord Vishnu by spreading open its hood while he rests.
Though the actual structure of the temple is quite small in size, the attention to detail and intricacies makes the temple stand out as an excellent example of the beautiful architectural designs found only in Goa.
The temple is tucked away from the main village area and is surrounded by water and beautiful greenery on all sides. It is set at the top of a flight of steps. The gateway to the premises of the temple offer excellent views of the breathtaking beauty of the surrounding lands.
A number of festivals and events are celebrated at Shri Ananta Temple, Goa every year. These festivals attract a number of visitors and tourists from all over Goa. Visit this famous temple in Goa and experience a truly spiritual experience.
Before you quit, may I help you?
Kindly give us your requirement and our travel expert will help you to plan your tour.
Plan my Trip!