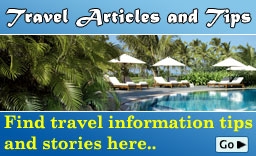 Goa Weather in January

Sunshine
Tempreture varies from 26 to 36 C in January
The search for the perfect beach destination in India leads to Goa. The small state located on the west coast of India is one of the most popular tourist destinations
Things to Do
Activities
Entertainment
Sights
Practical Information
Solar Dos Colacos Mansion Goa
Centuries of Portuguese rule has left its traces in the culture of Goa. It is quite evident as you follow the pathways that lead to some of the famous mansions of Goa. The architectural styles reflect the skilled craftsmanship of the artists of those times. One such popular mansion is the Solar Dos Colacos Mansion.
The Solar Dos Colacos Mansion, Goa is located by the Mandovi River, in the quaint village of Ribander. The mansion overlooking the Chorao Island, Diver island and with a view of the churches in Old Goa, paints a beautiful picture.
Joao Colaco started the construction of what was to become the official residence of the Colaco family in the year 1730. The construction was completed by his son, Nazario Colaco, in 1745. The word "Solar" means "house of a nobleman" in Portuguese. One of Joao Calcos successors, Nazario Colaco II was bestowed the title of a nobleman, "Fidalgo Cavalheiro" on January 4, 1890.
Inside the Solar Dos Colacos Mansion there are two wings, in 1745 construction of only the western wing was completed. The east wing was completed in the year 1825. The credit of completing the construction goes to Jose Bernardo Colaco. The western wing was for private use that contained the dining hall and a chapel. The Oratorio (chapel) was used by the family only. The chapel houses a statue of Madonna and the Child. It is believed that it was Jose Bernardo Colaco, who brought them to the house. It is said that his boat had capsized off the coast of Aguada. Jose Bernardo clung to the statue, which eventually saved his life. He brought home the statue and started a custom of reciting prayers in the house from August 1 to 15 every year. This tradition is still in practice. The ballroom and the minstrel gallery are part of the eastern gallery.
Nazario Colaco II, after whom the house was named, was the grandson of Jose Bernardo Colaco. You can see many of his wooden handiworks inside the house. The dining room features a paneled sideboard that has depictions from Ramayana (Hindu epic). It is interesting to note that in a Christian household there is something that is so closely related to Hindu culture.
Before you quit, may I help you?
Kindly give us your requirement and our travel expert will help you to plan your tour.
Plan my Trip!