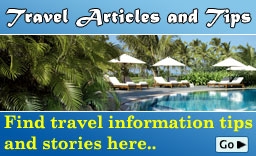 Goa Weather in January

Sunshine
Tempreture varies from 26 to 36 C in January
The search for the perfect beach destination in India leads to Goa. The small state located on the west coast of India is one of the most popular tourist destinations
Things to Do
Activities
Entertainment
Sights
Practical Information
Mayem Lake Goa
Take a breather from the beaches of Goa to visit the other natural attractions that the state has to offer. The various lakes of Goa, located away from the hub of the city are popular tourist destinations. The Mayem Lake, located amidst rolling green hills and home to various species of birds, is a great place for bird watching in Goa.
Located in Mayem Village, which is part of the Bicholim taluka of North Goa, you catch a glimpse of several charming villages as you drive down to Mayem Lake. En route you also pass by several beautiful houses and mansions. The forested land is home to various species of birds. A bird lover's paradise, you can spot a large number of bird species like Heron, Pheasant - tailed Jacana, Cotton Pygmy Goose and egrets.
Other than bird watching you can also enjoy the boating facilities available at Mayem Lake. The calm water surface is ideal for a relaxing tour on a boat. You can enjoy the proximity to nature as you cut through the peaceful water surface of the lake. The delightful scenery and boating are the main draws of this popular tourist spot of Goa.
You can relax in the cafeteria after a boating trip in Mayem Lake. The cafeteria is located in the park that has been built by the Goa Tourism Development Corporation (GTDC). You can also visit the other food and beverage stalls housed in the park.
Pay a visit to the famous Corjuem Fort, located nearby. The view of the villages from the fort is the main reason for visiting the place. A visit to the Mayem village gives you a chance to experience the rural lifestyle of Goa. This is a great way to capture the true spirit of Goa, the laid back lifestyle and carefree people. Catch the local artists at work at Kumbharwado locality of Mayem village. Ganesh idols are made for the famous Ganesh Chaturthi Festival.
There are buses leaving for Bicholim from Mapusa or Panaji. Once in Bicholim you can catch another bus to reach Lake Mayem.
Before you quit, may I help you?
Kindly give us your requirement and our travel expert will help you to plan your tour.
Plan my Trip!