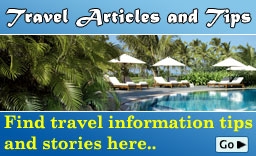 Goa Weather in January

Sunshine
Tempreture varies from 26 to 36 C in January
The search for the perfect beach destination in India leads to Goa. The small state located on the west coast of India is one of the most popular tourist destinations
Things to Do
Activities
Entertainment
Sights
Practical Information
Kesarval Springs Goa
In Goa, Kesarval Springs is the popular natural attraction amongst the tourists flocking from far flung regions. The medicinal properties make the spring very popular and worth visiting. Being bestowed with varied natural attractions, Goa is a trove of natural riches. The natural wonders of Goa are equally important to the tourism of the state as the beaches and forts.
Being surrounded by betel nut palm trees and tropical forests, Kesarval Springs apprears to be similar to any ordinary spring. Apparently, the natural backdrop paints a beautiful canvas that amazes the visitors. Apart from natural beauty, the main purpose of visiting is taking a bath in the spring. People believe that the water is holy and has curative properties thus, capable of curing most of the chronic diseases. Thus, the Kesarval Spring has visitors in great numbers, reaching Goa from far flung regions.
The literal meaning of "Kesarval" is "a flock of eagles". It is said that a colony of eagles used to reside in the tropical forests, adjacent to the Kesarval Springs. The natural beauty of the spring and its surroundings gets enhanced manifold during the months of monsoon. The torrent of rains during the onset of monsoons, swells the spring as fed with the rainwater.
People consider the Kesarval Springs like a natural spa instead of a place of beauty. Even if you don't believe in the medicinal properties of the waters of the stream, you can enjoy a refreshing dip in the spring.
The Kesarval Springs is situated in Mormugao Taluka, South Goa, at a distance of about 22 km from Panaji, the capital city of Goa. It is easy to get there as the attraction is well connected with different modes of transportation. The usual route is National Highway 17, which is taken by the visitors to reach the spring. All you need to do is cross the bridge on the Zuari River. Moreover, you can also catch a bus from Margao enroute cross the village of Cortalim.
Before you quit, may I help you?
Kindly give us your requirement and our travel expert will help you to plan your tour.
Plan my Trip!