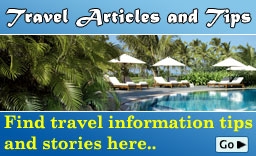 Goa Weather in January

Sunshine
Tempreture varies from 26 to 36 C in January
The search for the perfect beach destination in India leads to Goa. The small state located on the west coast of India is one of the most popular tourist destinations
Things to Do
Activities
Entertainment
Sights
Practical Information
Goa Heritage Houses
Goa, which was once the seat of Portuguese rule, is home to many mansions and homes. Some of these are still in use. Many of the heritage houses in Goa are a blend of Portuguese and Indian architectural techniques and forms. There are homes that date back to the 16th century. The changing trends of construction are evident as you follow the trail of heritage homes in Goa.
The heritage houses of Goa are mirrors of the ages when elegance and aristocracy reigned high. The changing hands of administration in the state are reflected in the architectural styles of many of these ancient Goan houses. Some of the famous Goan mansions are:
Solar Dos Colacos Mansion : This riverside mansion is located by the Mandovi River. The baroque style architecture overlooks the nearby islands of Chorao and Diver. Built in 1730, the house has been added to over the years. A private chapel and a wooden floored ballroom are some of the interesting features of the house.
Mascarennas Mansion : Located close to the Anjuna beach, this house is famous for its stylish balconies. The wooden floor of the porch and exquisite glass etchings are some of the highlights of the place.
Salvador da Costa Mansion : This 19th century mansion was built by Padre Pedrinho and Padre Laurence. Compared to the grandeur of the other mansions, this house is relatively simple. Build on practical lines you get a glimpse of various architectural styles. Gothic windows and the typical Indian style balconies are two evident blends of architectural styles.
Braganza House : This is one of the oldest heritage houses of Goa. This has been the family home of the Braganzas for more than four centuries. The two wings of the house are separated by a partition. As you walk through the house you get glimpses of the aristocracy and grandeur of the imperial era.
Some other famous houses of Goa are:
Miranda Mansion
Sat Burnzam Ghor
Figueredo Mansion
Dr Pinto De Rosario Mansion
Sr Alvaro Loyola Furtado Mansion
Before you quit, may I help you?
Kindly give us your requirement and our travel expert will help you to plan your tour.
Plan my Trip!