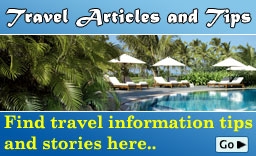 Goa Weather in January

Sunshine
Tempreture varies from 26 to 36 C in January
The search for the perfect beach destination in India leads to Goa. The small state located on the west coast of India is one of the most popular tourist destinations
Things to Do
Activities
Entertainment
Sights
Practical Information
Dudhsagar Falls Goa
Your trip to Goa is incomplete without a visit to the famous Dudhsagar Falls. One of the highest waterfalls of the country, the Dudhsagar Falls, Goa is thronged with tourists year round. The falls are located near the Goa - Karnataka border. You can enjoy swimming and rock climbing here. For those in the quest of adventure, a visit to the Dudhsagar Falls in Goa is sure to quench any thirst for some thrill and excitement.
The name "Dudhsagar" translates to "sea of milk." The force with which the water flows down from a height of several thousand feet, make some of the water dissipate into white foam. This results in milky white liquid flowing out, hence the name. The water at the Dudhsagar Falls drops from a height of about 2000 feet (approximately 610 meters). The fall overlooks a valley shaped like a new moon. The natural wealth of the surroundings, with tropical forests, butterflies, birds, and monkeys just add to the charm of the place.
The sight of the waterfall, dissipating into foamy swirls is one of the greatest draws of the place. The place is also a popular hiking destination. The wooded land offers ample opportunities for trekking. In fact, one of the famous trek routes in Goa leads to the Dudhsagar Falls. The more adventurous can also attempt a climb up to the summit of the falls. En route, you will have to navigate your way through slippery rocks and bushes. The breathtaking view from the top, however, makes the difficult journey worthwhile.
Swimming in the lakes formed by the waterfall at the bottom is yet another favorite tourist activity. It is safe to choose a calm water body for a quick dip. You can watch the waterfall in its true glory, if you visit during the monsoon season. The water gains strength from the rainwater and the calm waterfall turns forceful and fierce.
The Dudhsagar Falls are located in the Sanguem Taluka of South Goa. You can either take the tour offered by the GTDC (Goa Tourism Development Corporation), organized on Saturday and Sunday. If you decide to stake out on your own, you can take a train from Margao, which takes you to Dudhsagar station in about an hour.
Before you quit, may I help you?
Kindly give us your requirement and our travel expert will help you to plan your tour.
Plan my Trip!