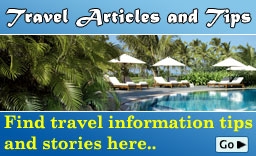 Goa Weather in January

Sunshine
Tempreture varies from 26 to 36 C in January
The search for the perfect beach destination in India leads to Goa. The small state located on the west coast of India is one of the most popular tourist destinations
Things to Do
Activities
Entertainment
Sights
Practical Information
Arvalem Waterfalls Goa
One of the most popular attractions of Goa is the Arvalem Waterfalls. It is a captivating sight to watch the gushing torrents of water descending down the rocks. The natural beauty of the place is enhanced by this swift flowing waterfall. The Arvalem Waterfalls, Goa are a popular tourist spot, thronged by visitors year round.
The very name of Goa conjures up images of the glorious sunny beaches. However, the state is also known for its natural beauty that encompasses lakes, waterfalls and mountains. The Arvalem Waterfall is one such site that is known for its spectacular natural beauty.
The sight of water gushing out of rocks from a height of about 70 feet is truly awe inspiring. The falling water creates ripples in the lake at the bottom of the falls. You can also take a dip in the waters of the lake. The waterfall is best viewed after the monsoon season, when a voluminous body of water crashes down the rocky structure. There is a park, which was constructed by the government for the benefit of visitors to enjoy the glorious view of the waterfall.
You also visit the Arvalem caves located nearby. These rock cut caves date back to the 5th century. They are also known as the "Pandava caves" after the five Pandava brothers (characters from the Indian epic, Mahabharata). The Rudreshwar temple is yet another place that you can visit. The temple, dedicated to Lord Shiva is an ancient shrine for Hindus visited by many, especially during the Shivratri festival. It is believed that the place was originally a Buddhist cave temple, which was later converted into a temple for Lord Shiva. You can actually catch a glimpse of the Arvalem Waterfall as you walk down the stairs of the temple.
The Arvalem Waterfall is located in the Bicholim Taluka of North Goa in a village called Sanquelim. It is approximately located at a distance of 9 kilometers from the town of Bicholim. You get buses from Mapusa that will directly take you to Sanquelim village. From there you can avail motorbikes or taxis to reach the waterfall.
Before you quit, may I help you?
Kindly give us your requirement and our travel expert will help you to plan your tour.
Plan my Trip!