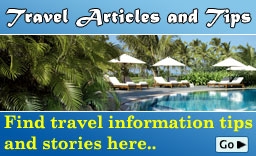 Goa Weather in June

Sunshine
Tempreture varies from 26 to 36 C in June
The search for the perfect beach destination in India leads to Goa. The small state located on the west coast of India is one of the most popular tourist destinations
Things to Do
Activities
Entertainment
Sights
Practical Information
Microlite Flying Goa
Goa, the land of beaches and swaying palm trees is an idyllic destination for spending a relaxing holiday. The picturesque beaches, the charming villages and the miles of golden coastline are a treat for the eyes. You can now enjoy the various delights of Goa in a unique way. Microlite flying offers you an opportunity to have a bird's eye view of the beaches and the beautiful Arabian Sea.
Imagine flying over the magnificent landscapes of Goa in a small aircraft. If you have always harnessed a secret desire of flying in the sky, this is a great opportunity to fulfill your desire. It is quite safe and you can comfortably sit and enjoy the view from the top. Microlite flying in Goa is a recent addition to the various sporting activities in the state. Tourists often enjoy this unique way of viewing the various attractions of Goa.
Microlite flying over Goa uses light aircraft, with a wing span of forty feet. An expert pilot navigates the craft, as you sit back and enjoy. There is room for three - four people, including the operator in the craft. While flying, you will experience the thrill of adventure and yet will feel the peace of gliding through air. If you have hang glided before, then you are sure to identify with the feeling. However, this is more relaxing than hang gliding; you can sit back and enjoy the sights while flying in a microlite; whereas in hang gliding, you have to navigate yourself, which restricts the viewing of the sights somewhat.
Microlite flying in Goa is a fairly recent entrant to the adventure sports scene, but its popularity is soaring each day. This is among the favorite tourist activities in Goa, with many visitors preferring an aerial view and covering large parts of the state. Though you can explore Goa in a car, bus or on foot, yet this sport adds an element of adventure, and you get to view the attractions of the place in a new light. While microlite flying, you literally get a birds view of the state of Goa.
Calangute beach was the first to offer this sport. You will find facilities for microlite flying at many places in Goa today.
Before you quit, may I help you?
Kindly give us your requirement and our travel expert will help you to plan your tour.
Plan my Trip!