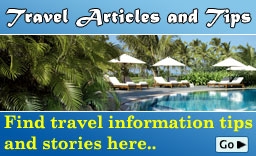 Goa Weather in June

Sunshine
Tempreture varies from 26 to 36 C in June
The search for the perfect beach destination in India leads to Goa. The small state located on the west coast of India is one of the most popular tourist destinations
Things to Do
Activities
Entertainment
Sights
Practical Information
Hiking and Trekking Goa
While in Goa, take a break from the sand, sea and sun routine and explore the vibrant natural wealth of the state. Hiking expeditions through lush green surroundings and challenging terrains is an integral part of any eco tour or adventure tourism in Goa. To cater to the rising popularity of hiking and trekking in Goa, regular expeditions are organized by various professional organizations.
You can start your hiking and trekking trips in Goa from the Sahyadris. The quiet green surroundings add to the beauty quotient of your adventurous trip. The routes pass through various regions featuring splendid natural beauty and include national parks, quaint villages and waterfalls.
Your hiking tour in Goa can include a visit to the famous Mollem National Park. Here you get to glimpse the rich variety of natural wealth of Goa. Being part of the Bhagwan Mahavir Wildlife Sanctuary, the place is home to various rare species of plants and animals. The mud trails inside the park are just perfect for exploring on foot.
From Mollem, you can trek to Valpoi, a small village. The place is dotted with wooded lands and hills, which provide ample opportunity for hiking and trekking. There is also a hunting spot (Rede Ghati) here. During your exploration, you will come across the ruined Nanus fort. You can also visit the four temples in Valpoi.
A visit to the famous Dudhsagar waterfalls is one of the main highlights of your trekking trip in Goa. The Dudhsagar waterfall in Sanguem is the fifth highest in India. The surrounding forested land is perfect for hiking. From here you can proceed to castle rock and then move onto the Kuveshi falls.
Two trekking trips are organized in a year by two professional organizers. One in October, is arranged by the Goa Hiking Association in Panaji. The other is credited with the discovery of the Tudov Waterfall, which is believed to be bigger than the Dudhsagar waterfalls. The Goa branch of Youth Hostel Association of India, arranges the "National Trekking Expeditions", every year in December. So to enjoy your hiking and trekking trips in Goa, it is best to visit during the months of October and December. The weather too, with clear skies, is perfect for such outdoor adventures.
Before you quit, may I help you?
Kindly give us your requirement and our travel expert will help you to plan your tour.
Plan my Trip!