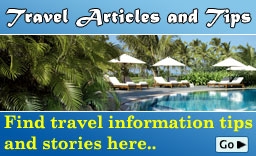 Goa Weather in June

Sunshine
Tempreture varies from 26 to 36 C in June
The search for the perfect beach destination in India leads to Goa. The small state located on the west coast of India is one of the most popular tourist destinations
Things to Do
Activities
Entertainment
Sights
Practical Information
Fort Chapora Goa
The Fort Chapora in Goa today stands as ramshackle remains of what was once a fortress meant for fighting foreign invasion. The Chapora River that flows past gives the fort its name. Though there is nothing but debris and ruins of the imposing fort left to be seen, yet an air of history lingers in the air. You can almost feel the clash of swords and hear the echoes of the canon shots being fired from those bygone eras.
History:
It was Sultan Adil Shah of Bijapur, who first built the fort. It was named 'Shahpura' meaning the town of Shah, in honor of him. Red laterite stones were used for building the fort. The latter structure was destroyed after the end of Adil Shah's rule.
The Fort Chapora in Goa was later rebuilt in 1617 by the Portuguese. The purpose was to protect against possible attack from the Marathas or the Muslim rulers. Despite their best efforts the Portuguese failed to ward off such attacks, and in 1684, the fort was captured by the Maratha ruler, Sambhaji.
The fort was rebuilt in 1717, following a conflict with the local residents. Once again the fort came under the Portuguese rule. An underground tunnel was built so that the troops could escape, in case the fort was captured by invaders. The Marathas once again took over the fort in 1739, but in 1741 the Portuguese took control, after the Pernem taluka was handed over to them. This fort of Goa was abandoned by the Portuguese in 1892.
Though nothing but a crumbling structure that remains today. Yet, you can climb over the walls of the fort to get a breathtaking view of the sea.
Location:
The Fort Chapora in Goa is located 10 km from the city of Mapusa. The Anjuna Beach, a popular tourist attraction in Goa, is located nearby. The Vagator Beach, also located nearby; is yet another famous tourist destination in Goa.
Access:
You can get taxis, buses and autos from Mapusa or Panaji to reach the Chapora Fort.
Before you quit, may I help you?
Kindly give us your requirement and our travel expert will help you to plan your tour.
Plan my Trip!