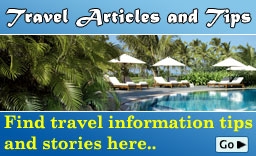 Goa Weather in June

Sunshine
Tempreture varies from 26 to 36 C in June
The search for the perfect beach destination in India leads to Goa. The small state located on the west coast of India is one of the most popular tourist destinations
Things to Do
Activities
Entertainment
Sights
Practical Information
Fort Cabo da Rama Goa
Standing in the southern tip of Goa is a fort that has stood as a mute witness to the events that had carved the history of the state. The scenic beauty and the charming church of Santo Antonio are the major attractions that draw visitors to the ruinous Fort Cabo da Rama in Goa.
History:
The Fort Cabo da Rama in Goa in Goa is one of the few forts in Goa that predate the Portuguese arrival in the state. The name of the fort is derived from the famous character of Lord Rama from the Indian epic Ramayana. There is an interesting legend associated with this fort. It is believed that Lord Rama took shelter here along with his wife Sita, during their period of exile. Sometimes the Fort Cabo da Rama in Goa is also referred to as Cape Rama.
The fort was initially occupied by Hindu rulers, who ruled all over the state. After this it changed hands several times, before the Portuguese captured it in 1763. Numerous battles have been fought from within the walls of the fort. The British were in possession of the fort during 1797 - 1802. Later from 1803, for ten years the fort was under British rule. The fort was abandoned and later used as a prison till1955.
The Fort is in ruins now. The church within, however, still stands intact. The white walls of the church stands in contrast to the black walls of the fort. The spectacular view of the sea, especially during sunset and the church, are the highlights of your visit.
Location:
The Fort Cabo da Rama is located in South Goa's Canacona taluka. It is situated near the Highway 17 that heads towards Karwar.
Access:
Taxis and auto-rickshaws can be hired to reach the Fort Cabo da Rama Fort. You will have to follow the winding road that leads from the National Highway -17, going towards Karwar.
Before you quit, may I help you?
Kindly give us your requirement and our travel expert will help you to plan your tour.
Plan my Trip!