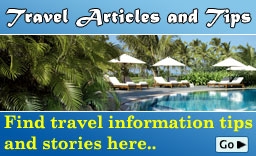 Goa Weather in June

Sunshine
Tempreture varies from 26 to 36 C in June
The search for the perfect beach destination in India leads to Goa. The small state located on the west coast of India is one of the most popular tourist destinations
Things to Do
Activities
Entertainment
Sights
Practical Information
Fort Aguada Goa
The Fort Aguada is one of the oldest among the various forts of Goa. The fort was built sometime in the 17th century. With the Mandovi River flowing past, the fort is one of the many tourist attractions of Goa. The Church of St Lawrence situated nearby is another reason for visiting this place.
History:
Fort Aguada in Goa is the biggest edifice among the forts that were built during the Portuguese rule in the state. The fort was built by the Portuguese, sometime in early 17th century. The purpose was to fight the attacks of the Dutch and the Maratha armies. The fort is witness to many of the historical turn of events that occurred during the Portuguese rule in Goa. This is also the only fort that was not invaded by enemies, during the Portuguese rule.
Inside the fort, there is a lighthouse that stands four storeys tall. Built in 1864, this is one of the highlights of your visit to this place. The lighthouse was later renovated in 1976. At one time a huge bell used to hang here. The bell was part of the relics that were extracted from the ruins of the St Augustus Monastery in Old Goa.
There is also a large well, inside the fort, where fresh spring water was accumulated. The name of the fort is derived from this very well. "Aqua" in Portuguese means "water". Thus, 'Aguada' a variation of "Aquada" translates into "a place where water is collected". In the olden days the voyagers, often stopped over to get a drink of water from here.
Many parts of the fort have now been converted into a prison. The latter is the largest one among the prisons of Goa.
Location:
The Fort Aguada in Goa is situated at the estuary of River Mandovi, in Bardez Taluka, North Goa. It is just 18 km from Panjim, the capital city of Goa. The church of St Lawrence is located nearby.
Access:
You can catch a taxi from Panjim, or anywhere in North Goa to reach Fort Aguada.
Before you quit, may I help you?
Kindly give us your requirement and our travel expert will help you to plan your tour.
Plan my Trip!